SB 99 Active Transportation Program
In 2013, Senate Bill 99 established a state Active Transportation Program to fund pedestrian, bicycle, and Safe Routes to School projects with federal Transportation Alternatives, State Highway Account, and other federal funds.  The ATP will be the primary source for federal and state Safe Routes to School grants in California starting in 2014. 
AB 516 Amendment of Safe Routes to School project selection criteria
In 2011, AB 516 amended the Safe Routes to School program by revising the process of evaluating project applications to mandate use of a specified public participation process, that must identify community priorities, ensure those priorities are reflected in the proposal, and secure support for the proposal by relevant community stakeholders. The bill also added the benefit of a proposal to a low-income school as a factor in the selection process.  A low-income school is defined as a school where at least 75 percent of students are eligible to receive free or reduced-price meals under the National School Lunch Program.
AB 1358 The Complete Streets Act
The 2008 CA law AB1358 (Complete Streets Act) took effect on January 1, 2011, requiring all city and county General Plan updates to include a policy on complete streets as part of the circulation element, embedding the planning, designing, and building of multimodal transportation networks into the larger planning framework. These networks should allow for all users to effectively travel by motor vehicle, foot, bicycle, and transit to reach key destinations within their community and the larger region. The State Office of Planning and Research issued the guidance to cities and counties for implementation. Complete Streets policies are viewed as a key element for achieving Safe Routes to School goals, as children are one of our most vulnerable roadway users, and there will never be enough stand-alone Safe Routes to School funding to fix all of the state's safety problems.
Complete Streets in CA - Examples from CA compiled by the National Complete Streets Coalition
ChangeLab Solutions has developed three model policies to help California communities embrace complete streets, no matter how new or experienced they are with this idea:
Sample model Complete Streets policy resolution for San Francisco Bay Area - developed by ChangeLab Solutions, in conjunction with the Safe Routes to School National Partnership and the Marin County Bicycle Coalition
SB 375 Sustainable Communities and Climate Protection Act
Enacted in 2008, California Senate Bill 375 aims to reduce greenhouse gas emissions by providing financial and environmental review incentives to reduce sprawl and promote development patterns that give people transportation options so they can drive less. Many think Southern California faces the toughest challenges and potentially most rewarding outcomes under SB 375. 
AB 321 15 MPH School Speed Limit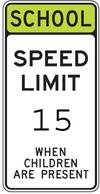 On January 1, 2008, a new law took effect that will help bring down traffic speeds in school zones. This law, authored by Pedro Nava (D-Santa Barbara), enables local government to extend school zones to 1000 feet and reduce the speed limit within 500 feet of a school site to 15 mph at schools that are located in residential areas, or on highways with a speed limit of 30 mph or less. At 15 mph, most pedestrians will survive a crash, often sustaining only minor injuries. Yet minor increases in impact speed have a profound effect on crash severity. At 20 mph, most pedestrian crashes result in serious injury, and almost half are fatal. At 40 mph, 90% of crashes are fatal. Reducing traffic speeds will enable more children to walk or bike to school safely.
This law is voluntary. In order to benefit from it, parents and school administrators need to go to their city councils, or county boards of supervisors, if living outside city limits, and ask them to enact this law at qualifying schools. The following cities/counties/schools have adopted AB 321: Berkeley, San Francisco, City of Goleta, Santa Barbara County, Taylor School and Alvin School in Santa Maria, Lompoc, Buena Park and Casmalia.