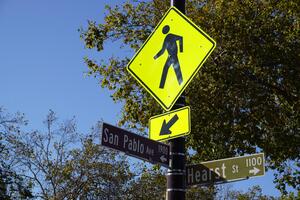 Explore our round-up of webinars and events coming up highlighting the latest road safety trends and best practices in planning and designing safe spaces for walking, biking, scooting, and rolling! Have an event you'd like us to share? Please submit your event here.
Also, these opportunities can be found on the event calendar here.
WEBINARS
An Introduction to Safe Routes to School
Host: Safe Routes Partnership
October 19, 2022 | 11:00 am PT | Register
New to Safe Routes to School – or just in need of a refresher? Join Safe Routes Partnership on
Wednesday, October 19
from 2 – 3 pm ET, as they explore the basics of starting and growing a Safe Routes to School program. Learn about the benefits of Safe Routes to School, the 6 E's framework, ideas for initial education and encouragement activities, and more! This webinar is part of a series of free webinars supported by General Motors and presented by the Safe Routes Partnership.
Learn more and register.
Walking and Public Health: Research Insights into the Value of Active Living
Host: Maryland DOT
October 20, 2022 | 7:30 am PT | Register
Walking is the most common leisure-time physical activity in the U.S.  With the advent of pedometers, other wearable devices and phone applications that enable walkers to quantify and monitor their steps, attention has focused on the number of steps needed daily to improve health.  Pedro Saint-Maurice, Ph.D., of the National Cancer Institute will share recent findings from these great new data sources.
Discussions about health and wellness also have looked at a broader set of tools and approaches.  Dhruti M. Patel, MD, of the University of Maryland Extension, will share the benefits of mindfulness in our everyday lives, from stress relief to fitness and mindful eating to how these approaches can fit together to improve public health.
This event is part of the 2022 Walktober Walkinar Series. 
Microtransit - Innovation in Rural Mobility
Host: TRB
October 20, 2022 | 10:00 am PT | Register
Microtransit is increasingly normalized in urban areas but is still a relatively new model for services in the rural context. This webinar will explore solutions for moving rural residents more efficiently and effectively with microtransit.

Registration is free for employees of TRB sponsors as well as Titanium and Cobalt Global Affiliates. The registration rate for all other attendees is $60.
Launching the Wasatch Transportation Academy
Host: NITC
October 20, 2022 | 11:00 am PT | Register
In 2022, supported by the National Institute for Transportation and Communities (NITC), researchers launched a new community transportation academy: the Wasatch Transportation Academy. Community Transportation Academies, or CTAs, provide a basic technical understanding of how a city or region's transportation system operates, along with the decision makers and decision-making processes that determine how the system is shaped. Led by Nathan McNeil of Portland State University and Keith Bartholomew of the University of Utah, the WTA used the established Portland Traffic and Transportation class, launched in Portland, Oregon in 1991, as a framework. The research team developed a course vision, topics, and logistics for the WTA by interviewing stakeholders in the Utah Governor's Office of Planning and Budget, the Utah Department of Transportation, the Utah Transit Authority, Salt Lake County, Salt Lake City, and the Wasatch Front Regional Council.

Learn more and register.
The Week Without Driving Campaign: What it is, why it matters, and how to do it in your community
Host: America Walks
October 20, 2022 | 11:00 am PT | Register
The Disability Mobility Initiative just completed its second and very successful Week Without Driving campaign to draw attention to the transportation needs of non-drivers. Participants included state legislators, county commissioners, even the head of the state DOT!

How did they build the campaign, how did it affect participants, and how can you run this campaign in your community? Learn from the organizers and participants, and help the Week Without Driving to spread to more places next year!
How COVID-19 Changed Our Cities: Evidence from a Multi-Wave National Survey
Host:    Portland State University TREC
October 21, 2022 | 11:30 am PT | Register
Human behavior is notoriously difficult to change, but a disruption of the magnitude of the COVID-19 pandemic has the potential to bring about long-term behavioral changes. During the pandemic, people were forced to experience new ways of interacting, working, learning, shopping, traveling, and eating meals. A critical question going forward is how these experiences have actually changed preferences and habits in ways that might persist. We collected a nationally-representative, 3-wave panel survey in the U.S. that aims to shed light on this question. This talk will draw from these data to describe how the pandemic did (and did not) change how we live in cities, what we still don't know, and in which areas urban planners should adjust their assumptions as we look to the future.

This event is part of the Friday Transportation Seminar Series and will be accessible online and in person. Learn more and register.
Safer Intersections for Pedestrians and Bicyclists
Host: Transportation Research Board
October 25, 2022 | 9:30 am PT | Register
What is the biggest challenge pedestrians and cyclists face on the road? For some it is navigating turning vehicles. For others it is waiting for excessively long red light times or determining unmarked or unclear paths through intersections, or inadequate sight distance. In designing intersections and infrastructures the most vulnerable road users need to be considered. TRB will host a webinar on Tuesday, October 25, 2022 from 12:30 PM to 2:00 PM Eastern that will explore 20 performance measures, or design flags, that can help identify potential safety, accessibility, operational, or comfort issues for pedestrians and bicyclists. These design flags represent issues that can be addressed in the development and evaluation intersections and interchanges.

Registration is free for employees of TRB sponsors as well as Titanium and Cobalt Global Affiliates. The registration rate for all other attendees is $60. 

Expanding Access to Pedestrian Infrastructure and Improving Public Safety: Tools and Case Studies
Host: Maryland DOT
October 27, 2022 | 7:30 am PT | Register
The final Walkinar will look at how transit and pedestrian infrastructure can be improved to expand access and improve public safety, through tools and case studies from Maryland and beyond. 
Stephanie Dipetrillo of the Alan M. Voorhees Transportation Center at Rutgers University will discuss how the built environment around transit facilities can affect how people use transit.
Montgomery County Planning is using a new strategy to improve road safety for drivers, bicyclists and pedestrians.  Their "Predictive Safety Analysis" is a proactive data-driven approach designed to prevent severe and fatal crashes before they happen.  Tune in to learn how this effort will help eliminate all traffic deaths and injuries in the county by 2030! 
Finally, Carden Wyckoff of Atlanta will take a look at transit equity through the lens of someone who uses a wheelchair by sharing her experiences and insights about the importance of rollability and the value of universal design for all.