Law enforcement plays an important role in preventing unsafe driving behaviors and encouraging all road users to obey traffic laws. Below are a selection of promising practices, research, program examples, and resources that demonstrate the complimentary role law enforcement strategies play in ensuring safe, active travel in our communities.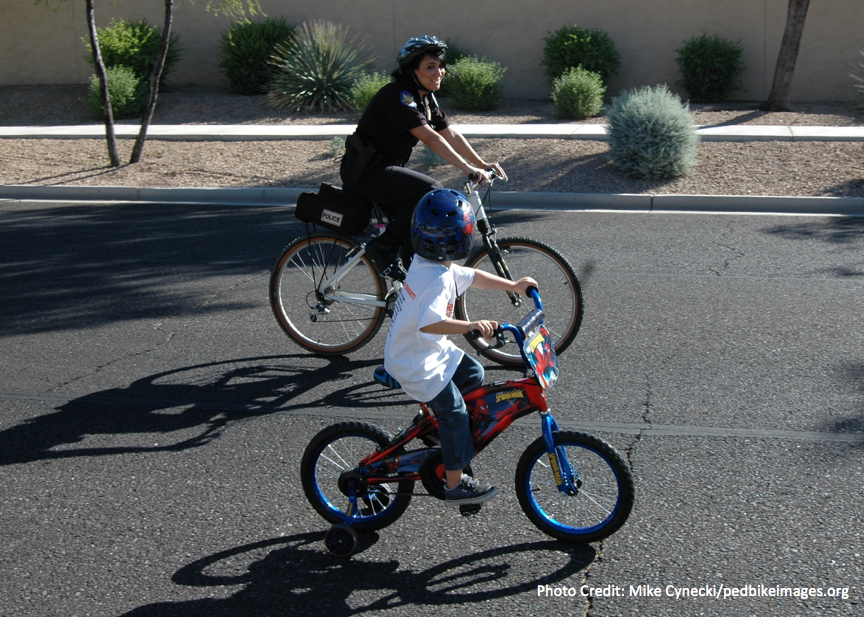 Program Examples
Bicyclist Safety Diversion Programs: California bill A.B. 902, passed in 2015, allows bicyclists who have received a traffic violation to attend traffic school in lieu of fines or for a reduced fine. Bicyclist safety diversion programs are also an opportunity for riders to learn more about safe bike riding. Examples of this enforcement program include the Bike Safety and Bike Citation Diversion Program at Stanford University; the Huntington Beach Ticket Diversion Program; and the UC Davis Bicycle Education and Enforcement Program.
California Office of Traffic Safety, Pedestrian Safety: In response to the rising number of pedestrian injuries and fatalities on California roadways, the California State Senate passed a resolution in 2016 declaring September as California Pedestrian Safety Month. Each September, the California Office of Traffic Safety (OTS) and other law enforcement agencies, city and state transportation agencies, and safety advocates promote public awareness of how people walking and driving can share the road responsibly and safely.
California Highway Patrol, Bicycle and Pedestrian Safety:  This site has public service ads to promote safe walking and bicycling. The CA Pedestrian and Bicyclist Enforcement and Education Project utilizes public education, awareness campaigns and enforcement to encourage safer behaviors while on the road. This project was also awarded the Bike/Pedestrian Safety Special Award in the 2015 National Law Enforcement Challenge from the International Association of Chiefs of Police (IACP).
Care About Neighborhoods (CAN): CAN is comprised of three programs developed by the Sacramento County Department of Transportation that deal with the problem of speeding on residential streets. Each program goes beyond traditional law enforcement to incorporate the Four E's of Engineering, Education, Encouragement, and Enforcement. CAN includes the Neighborhood Speed Watch Program, the Neighborhood Speed Awareness Program, and the CAN Goes to School Program.
Enforcing Traffic Laws in San Francisco: This post from Vision Zero SF showcases three law enforcement campaigns to improve pedestrian and bicycle safety, including Don't Block the Box, Focus on the Five, and Parking Control Officer Enforcement.
Glendale Safe and Healthy Streets Plan, Ch 4 Enforcement: Chapter 4 of the Glendale's Safe and Healthy Streets Plan provides an overview of enforcement policies and activities for improving pedestrian and bicycle safety.
In this traffic safety program, an increased emphasis is placed on enforcing traffic laws around school zones to ensure safety for children and adults walking and biking to school.
Go Safely California: This website from the California Office of Traffic Safety is part of a new statewide public awareness campaign aimed at reminding Californians that they have a lot of options to get home safely. It serves as an educational resource for the general public and traffic safety partners and includes tips, resources and educational materials on traffic safety issues such as distracted driving, impaired driving, and pedestrian and bicycle safety.
Los Angeles Police Department (LAPD): Vision Zero – Priority Corridor Safety Details: This post on the National Safety Council website highlights a project by the City of Los Angeles to identify high priority intersections and corridors along a High-Injury Network (HIN) where collisions occur. The LAPD will focus and increase enforcement efforts in the corridors to reduce pedestrian and bicycle crashes. Visit the Vision Zero Los Angeles resources page to learn about other LAPD enforcement activities undertaken as part of Vision Zero in the 2017 Action Plan and the newly released 2018 Action Plan and Progress Report.
Street Smarts Campaign: This public education campaign aims to reduce the number of traffic-related crashes and injuries throughout the County of Santa Cruz and City of Monterey. Partners for the campaign include a coalition of educational and local government partners, including the Santa Cruz Polic Department.
TLCBD Safe Passage: The Tenderloin Community Benefit District (TLCBD) Safe Passage program is a coalition of Tenderloin community members in the City of San Francisco who are building a culture of safety, and working to help people feel safe and be safe through: Education, Involvement, and Visibility. 
Watch for Me (North Carolina) Program: The "Watch for Me" program in North Carolina is a statewide pedestrian and bicycle safety program that aims to reduce pedestrian and bicycle injuries and deaths through a comprehensive, targeted approach of public education, community engagement, and high visibility law enforcement.
Resources