Caltrans has recently released "Toward an Active California," the Draft California State Bicycle and Pedestrian Plan. The public is invited to provide comments (by March 1st) through their online comment tool or by attending an upcoming meetings/webinar. Caltrans will be hosting four meetings across the state from February 23- March 1, 2017.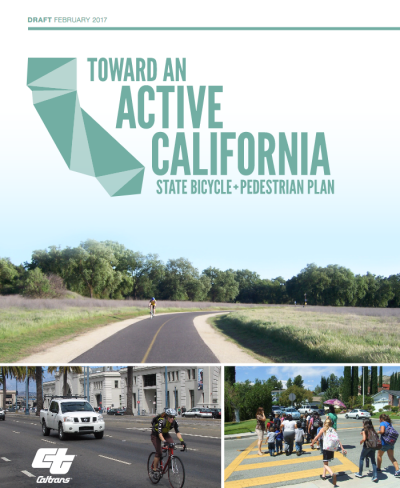 The project team will present the Drafted Plan and encourage questions and feedback from the public. Participants can attend the meetings in person or by webinar. 

Detailed telephone numbers and webinar access codes will be provided on this page before each webinar.
The four meetings are at the following dates and times:
Northern California
Thursday, February 23 
10:00am - 12:00pm
Dr. Martin Luther King Library
Room 225
150 E San Fernando Street
San Jose, CA
Webinar url: https://join.me/CABikeandPed 


Central California
Monday, February 27
1:00pm -  3:00pm
Caltrans District 6 Fresno Office
Yosemite Room
2015 E. Shields, Suite A-100
Fresno, CA
Webinar url: https://join.me/CABikeandPed 

Southern California
Monday, March 6
10:00am - 12:00pm
Caltrans District 12 Office
Room 104
1750 E. 4th Street
Santa Ana, CA
Webinar url: https://join.me/CABikeandPed 


Webinar Only
Wednesday, March 1
3:00pm - 5:00pm
Webinar url: https://join.me/CABikeandPed