Federal Manual on Uniform Traffic Control Devices (MUTCD)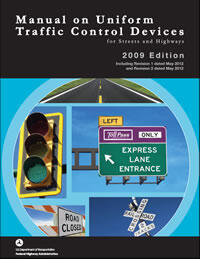 The Federal Manual on Uniform Traffic Control Devices (MUTCD) is developed and maintained by the Federal Highway Administration (FHWA) and is revised periodically with inputs from practitioners, agencies and other stakeholders. It is intended to set minimum standards and provide guidance on implementation, in order to ensure uniformity of traffic control devices across the nation, to enhance safety and efficiency in the transportation system.
The 2009 MUTCD with Revisions 1 and 2 is the official current edition. The section that is most relevant to bicycle safety is Part 9 Traffic Control for Bicycle Facilities.
Because the MUTCD is continually being updated and control devices are continually being introduced and evaluated, the FHWA maintains a table that lists the status of various bicycle-related signs, markings, signals, and other treatments as to whether they have been incorporated into the latest edition or whether they are considered experimental. Treatments that are not in the MUTCD or included in this table do not have standing with the FHWA.
Technical Assistance: Non-compliance of the MUTCD can ultimately result in loss of federal-aid funds as well as significant increase in tort liability. The FHWA process to incorporate new devices and applications in the MUTCD involves the Federal Register rulemaking activity, to which any interested person or organization may provide input by submitting comments to the docket. Input from practitioners and all other stakeholders is very critical in keeping the MUTCD current and relevant.
Audience: The MUTCD audience includes, but is not limited to: State and local highway agencies, public officials, owners of private roads open to public travel, the insurance industry, law enforcement agencies, incident management personnel, maintenance personnel, academic institutions, private industry, and planning, construction and engineering organizations.
---
California Manual on Uniform Traffic Control Devices (MUTCD) 2014: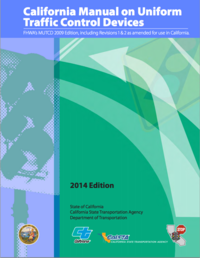 As of November 7, 2014, California Department of Transportation has adopted the California Manual on Uniform Traffic Control Devices (California MUTCD) 2014 edition to provide for uniform standards and specifications for all official traffic control devices in California. This action was taken pursuant to the provisions of California Vehicle Code Section 21400 and the recommendation of the California Traffic Control Devices Committee (CTCDC). The Department requested and has received a letter to confirm substantial conformance from the Federal Highway Administration (FHWA) for California MUTCD 2014 edition.
The California MUTCD 2014 edition includes FHWA's MUTCD 2009 edition dated December 19, 2009, including Revisions 1 and 2, as amended for use in California. The California MUTCD 2014 also includes all policies on traffic control devices issued by the Department since January 13, 2012, and other corrections and format changes that were necessary to update the previous documents.
The California MUTCD 2014 edition supersedes and replaces the previously adopted (on January 13, 2012) California MUTCD as well as Chapters 4, 5, 6, 8, 10, 11, 12, and the traffic signals portion of chapter 9 of the 1996 Caltrans Traffic Manual, as amended, and all previous editions thereof. 
List of Significant Changes (compares to CA MUTCD 2012) 

Part 9 of the CA MUTCD (Traffic Control for Bicycle Facilities)