The Community Pedestrian and Bicycle Safety Training (CPBST) program is a joint project of UC Berkeley SafeTREC and California Walks. Funding for this program is provided by a grant from the California Office of Traffic Safety (OTS) through the National Highway Traffic Safety Administration (NHTSA). The purpose of the CPBST program is to train local neighborhood residents and safety advocates on how to improve pedestrian and bicycle safety and to strengthen their collaboration with local officials and agency staff to make California communities safer and more pleasant to walk and bike.  
The program, begun in 2009 as the Community Pedestrian Safety Training (CPST) program, was expanded in 2016 to incorporate strategies to improve bicycle safety and renamed the Community Pedestrian and Bicycle Safety Training (CPBST) program.
Results
As of 2019, SafeTREC and California Walks have conducted 89 pedestrian and bicycle safety trainings throughout California. 
Explore our interactive map of the CPBST Program to view and access summary reports where available of each workshop proceedings, as well as ideas identified during the process and recommendations for pedestrian/bicycle safety projects, policies, and programs. 
View a web accessible, text version of the CPBST Interactive Map.
For an evaluation of the effectiveness of the CPBST, please view:
About the CPBST
The half­‐day training is designed to provide participants with pedestrian and bicycle safety best practices and a range of proven strategies to address and improve pedestrian safety conditions and concerns (the 6 E's: Evaluation, Engineering, Enforcement, Education, Encouragement, Empowerment). Participants are then guided on a walkability assessment of nearby streets before setting pedestrian and bicycle safety priorities and actionable next steps for their community. Each training is tailored to a specific community, enlisting participation from community members and safety advocates, along with professional staff and officials from local government and agencies.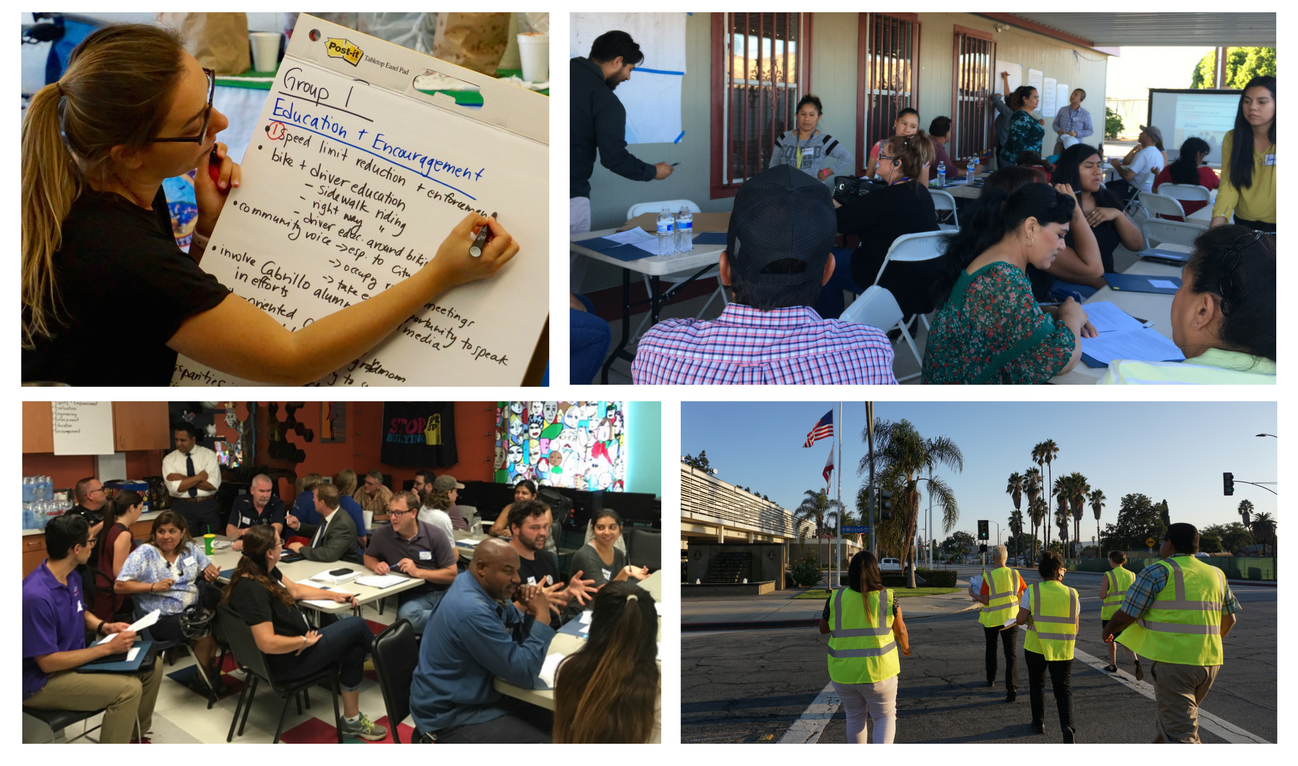 This training teaches basic pedestrian and bicycle safety best practices (e.g. high visibility crosswalks, crash reduction factors), community engagement skills (e.g. identifying community professionals empowered to solve problems), walkability/bikeability assessment of a selected pedestrian/bicyclist danger area, and mapping or other small group interactive prioritization of safety issues.             
The training uses SafeTREC analytic tools such as the Transportation Injury Mapping System (TIMS) and data analysis. At the training, participants will engage in:
Expert-led presentations
Interactive training sessions
Small group discussion
Walkability/bikeability Assessment
At the end of the training, participants will have a set of pedestrian safety priorities and a next steps action plan to promote safe walking in the community. The training is also designed to help communities with development and implementation of a Pedestrian/Bicycle Safety Action Plan.
Learn more: 
2020 CPBST Fact Sheet: English / Spanish version coming soon!
Apply now for a CPBST in Your Community!
Applications for the CPBST program are now being accepted on a rolling basis, with a preference for applications received by December 23, 2019. To apply for a training in your community, please review the Program Application (English/Spanish) and submit to Wendy Ortiz, Community Programs Manager, at wendy@calwalks.org. For questions or help filling out the application, contact Wendy at (714) 742-2295. Para Español, por favor contacte a Wendy Ortiz at (714) 742-2295 or email wendy@calwalks.org.
Who is eligible to apply?
Underserved communities, including non-English speaking, communities of color, and low-income communities:
Tribal communities and governments;
Community-based organizations, groups, and coalitions;
School communities and school districts; and
City and county agencies.

If you have any questions about the CPBST Program, please contact Katherine Chen at kchen@berkeley.edu. 
Funding for this program was provided by a grant from the California Office of Traffic Safety, through the National Highway Traffic Safety Administration.