The Community Pedestrian and Bicycle Safety Training (CPBST) program is a joint project of UC Berkeley SafeTREC and California Walks (Cal Walks).  Funding for this program is provided by a grant from the California Office of Traffic Safety (OTS) through the National Highway Traffic Safety Administration (NHTSA). The CPBST program works with local neighborhood residents and health, transportation, and safety advocates to understand a community's walking and biking safety concerns and advance their pedestrian and bicycle safety goals. We work to strengthen collaboration between all safety partners, discuss transportation safety information and local crash data, and collectively develop a community-driven safety action plan.  Our team works with a local Planning Committee to customize the workshop to fit the unique needs of each community.
The program began in 2009 as the Community Pedestrian Safety Training (CPST) program, and was expanded in 2016 to incorporate strategies to improve bicycle safety and renamed the Community Pedestrian and Bicycle Safety Training (CPBST) program.  
Results
As of 2022, SafeTREC and Cal Walks have conducted 119 pedestrian and bicycle safety trainings throughout California. While our curriculum was developed for in-person workshops, it has been successfully adapted for virtual convenings as a result of the coronavirus pandemic. To learn more about how the CPBST program was adapted, watch this presentation with UC Berkeley SafeTREC Senior Program & Policy Analyst Katherine Chen, "Community Engagement: Pivoting active transportation community engagement planning during the COVID-19 pandemic."
Explore our interactive map of the CPBST Program to view summary reports (where available) of each workshop proceeding, including ideas identified during the process and recommendations for pedestrian/bicycle safety projects, policies, and programs. 
View a web-accessible, text version of the CPBST Interactive Map.
The CPBST team reviews the program on a regular basis. Please see below for a list of recent follow-up surveys and an evaluation of the effectiveness of the CPBST:
About the CPBST
The CPBST works with local residents, schools, agencies, and other safety partners to build synergy and develop a tailored, community-driven action plan to improve walking and biking safety and strengthen collaboration. During the workshop, we will review local crash data and the community's traffic safety experiences, educate participants on pedestrian and bicycle safety best practices, guide participants on a walking and biking safety assessment, and culminate in identifying actionable next steps. The CPBST is committed to equitable community outreach and engagement in active transportation planning. We prioritize working in communities that are at higher risk for road traffic injuries and addressing the safety needs of people who are underserved by traditional transportation planning and resources.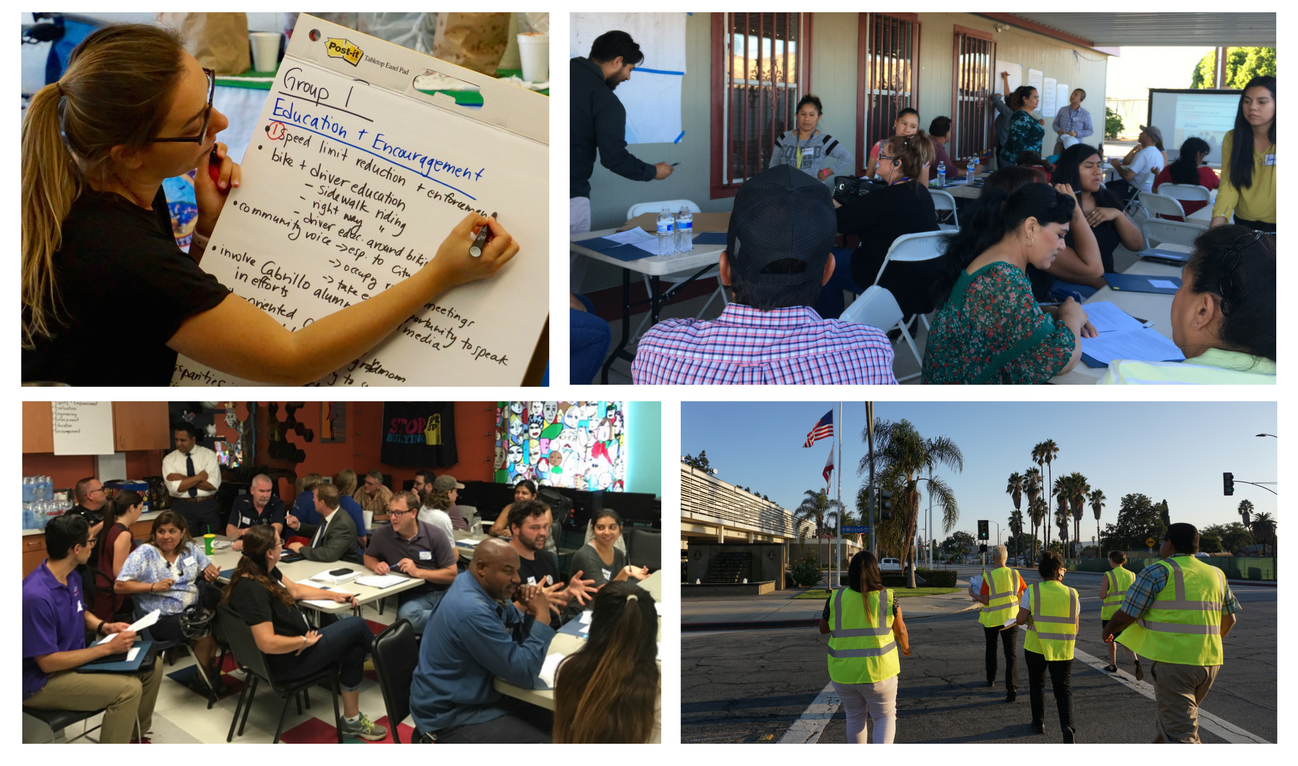 The CPBST team adapted the Federal Highway Administration (FHWA) Safe System elements and principles to make it more impactful for grassroots community engagement. Specifically, we emphasize the role of community-based expertise and strengthen collaboration between transportation professionals and communities to create lasting safety and mobility improvements.  Within the Safe System framework, the team will: (1) review pedestrian and bicycle crash data and safety strategies; (2) facilitate a walking and biking assessment; (3) strategize with participants to define specific community pedestrian and bicycle safety goals and actionable next steps; and (4) empower participants to strengthen collaborations to implement specific walking and biking safety recommendations. 
The CPBST strives for equitable engagement and accessibility. In 2020, the curriculum was adapted for virtual convenings due to the COVID-19 pandemic. Moving forward, CPBST workshops will be offered in-person, online, or hybrid to meet your community's needs, pursuant to public health guidance. 
Learn more: download the 2022 CPBST Fact Sheet: English / Spanish
2022 CPBST Community Workshops
This year, the CPBST partnered with communities throughout California to discuss, plan, and implement active transportation safety improvements. We are committed to working with each community to identify how a CPBST workshop fits into their current needs and goals, especially as pedestrian and bicycle safety needs are changing during the COVID pandemic. 
2022 CPBST Workshops

| Community | Date |
| --- | --- |
| Mariposa Neighborhood, Vacaville | May 26, 2022 |
| Woodward Park, Fresno | June 16, 2022 |
| El Cerrito | July 25, 2022 |
| South Stockton | August 9, 2022 |
| Hollywood | August 18, 2022 |
| Fort Jones | August 29, 2022 |
| Fillmore | September 1, 2022 |
Have questions about the program? Please contact us at safetrec@berkeley.edu.

We are offering follow-up support to former CPBST sites! 
If you've previously hosted a CPBST workshop in your community and need specific technical assistance to implement the programs, projects, and recommendations outlined in your CPBST Summary & Recommendation Report, explore our Follow-Up Technical Assistance Menu. To inquire about follow-up support for your community, please contact Cal Walks' Program Manager Marina Ramirez at marina@calwalks.org. 


Strengthening Partnerships: A 2022 Peer Exchange Series for former CPBST sites
SafeTREC and California Walks hosted a new 3-part training series, the "Strengthening Partnerships: A Peer Exchange Series for former CPBST sites"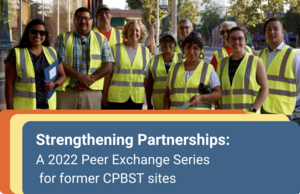 between March 15 and April 12, 2022. The biweekly virtual series was designed to support communities as they work to implement the recommendations developed during their CPBST workshops. 
During each 90-minute peer exchange, participants were introduced to the topic, networked with peers, and learned about the successes and challenges of communities as they work to make walking and biking safer. 
Registration was open to participants from prior CPBST sites and free of charge for 30 participants per peer exchange.
Visit the Strengthening Partnerships Peer Exchange Series webpage to learn more about each Peer Exchange and view slide decks and summaries as they become available. 
---

Funding for this program was provided by a grant from the California Office of Traffic Safety, through the National Highway Traffic Safety Administration.