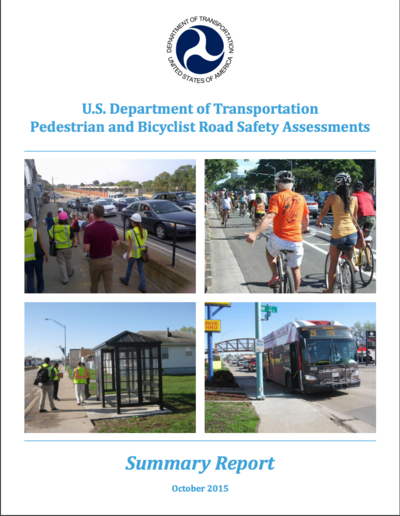 The U.S. Department of Transportation Pedestrian and Bicyclist Road Safety Assessments report summarizes results from 52 pedestrian and bicycle safety assessments conducted in every State, Puerto Rico, and the District of Columbia. More than 1,500 people, including elected officials, field office leaders, and representatives from local, regional, State, Federal, and nongovernmental agencies took part, helping advance Secretary Foxx's Safer People, Safer Streets Initiative for pedestrian and bicycle safety.
The assessments were intended to encourage relationship-building between people who work for different jurisdictions and share responsibility for creating safer streets. 
In addition to identifying physical barriers, one of the goals of the assessments was to examine how policies and lack of coordination across multiple agencies present barriers to safe walking and bicycling.
See the full report.