The following table features communities in California and throughout the U.S. that have been awarded a "Walk Friendly" designation, which recognizes their commitment to supporting safer walking though infrastructure improvements, education, encouragement, and traffic safety enforcement.
Walk Friendly Communities is sponsored by FedEx and the U.S. Department of Transportation Federal Highway Administration. The program is maintained by the UNC Highway Safety Research Center's Pedestrian and Bicycle Information Center, with support from a variety of national partners.
The Walk Friendly Assessment Tool can be used by communities to measure their own walkability, whether or not they choose to submit an application to be considered for recognition. Walk Friendly Communities considered applications on a periodic basis.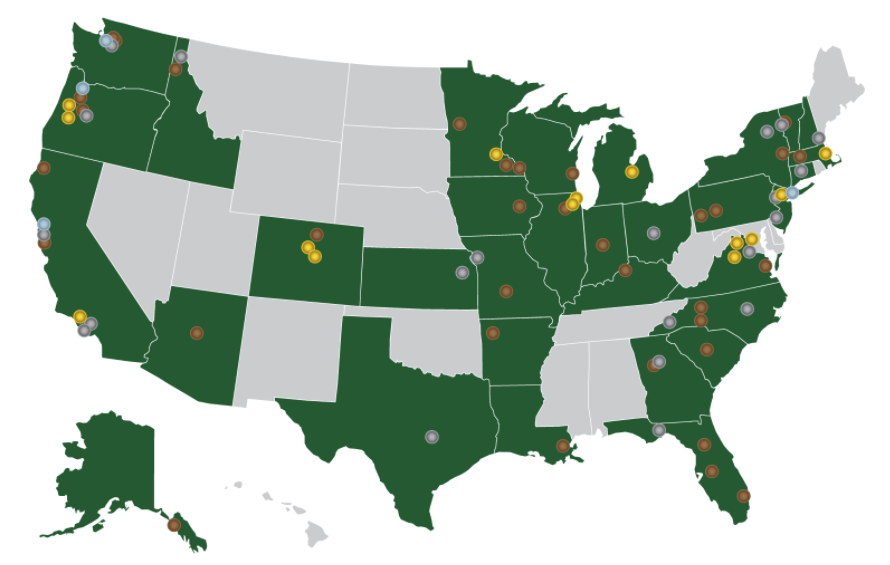 CALIFORNIA
| COMMUNITY | AWARD | POPULATION | POPULATION DENSITY (SQ MI) | PROFILE |
| --- | --- | --- | --- | --- |
| San Francisco | Platinum | 884363 | 18679 | profile |
| Santa Barbara | Gold | 88410 | 4541 | profile |
| Redwood City | Silver | 76815 | 3956 | profile |
| Santa Monica | Silver | 89736 | 10664 | profile |
| Arcata | Bronze | 18000 | 1567 | profile |
| Mountain View | Bronze | 77973 | 77973 | profile |
| Sebastopol | Bronze | 7440 | 4022 | profile |
| Rancho Cordova | Honorable Mention | 74585 | -- | profile |
OTHER U.S. COMMUNITIES
| COMMUNITY | AWARD | POPULATION | PROFILE |
| --- | --- | --- | --- |
| New York City, NY | Platinum | 8550405 | profile |
| Portland, OR | Platinum | 647805 | profile |
| Seattle, WA | Platinum | 652405 | profile |
| Ann Arbor, MI | Gold | 117025 | profile |
| Arlington, VA | Gold | 229302 | profile |
| Boulder, CO | Gold | 107353 | profile |
| Charlottesville, VA | Gold | 48117 | profile |
| Chicago, IL | Gold | 2695598 | profile |
| Corvallis, OR | Gold | 54462 | profile |
| Denver, CO | Gold | 600158 | profile |
| Eugene, OR | Gold | 159190 | profile |
| Evanston, IL | Gold | 74500 | profile |
| Hoboken, NJ | Gold | 50005 | profile |
| Minneapolis, MN | Gold | 382578 | profile |
| Somerville, MA | Gold | 78804 | profile |
| Washington DC | Gold | 601723 | profile |
| Alexandria, VA | Silver | 139966 | profile |
| Asheville, NC | Silver | 91902 | profile |
| Austin, TX | Silver | 790390 | profile |
| Bellevue, WA | Silver | 147599 | profile |
| Bend, OR | Silver | 80995 | profile |
| Burlington, VT | Silver | 42645 | profile |
| Cary, NC | Silver | 156531 | profile |
| Charlotte, NC | Silver | 877498 | profile |
| Columbus, OH | Silver | 850106 | profile |
| Culver, IN | Silver | 1436 | profile |
| Decatur, GA | Silver | 19687 | profile |
| For Collins, CO | Silver | 156480 | profile |
| Hartford, CT | Silver | 124775 | profile |
| Lawrence, KS | Silver | 91305 | profile |
| Lee's Summit, MO | Silver | 98461 | profile |
| Long Beach, CA | Silver | 461823 | profile |
| Montclair, NJ | Silver | 37726 | profile |
| Portsmouth, NH | Silver | 21796 | profile |
| Raleigh, NC | Silver | 464758 | profile |
| Sandpoint, ID | Silver | 7365 | profile |
| Santa Monica, CA | Silver | 89736 | profile |
| Saranac Lake, NY | Silver | 5288 | profile |
| Tallahassee, FL | Silver | 191019 | profile |
| Philadelphia, PA | Silver | 1526006 | profile |
| Atlanta, GA | Bronze | 486290 | profile |
| Bloomington, IN | Bronze | 80405 | profile |
| Cedar Rapids, IA | Bronze | 132228 | profile |
| Coeur d'Alene, ID | Bronze | 44137 | profile |
| Columbia, SC | Bronze | 133358 | profile |
| Davidson, NC | Bronze | 10944 | profile |
| Essex Junction, VT | Bronze | 9271 | profile |
| Fayetteville, AR | Bronze | 80621 | profile |
| Fergus Fall, MN | Bronze | 13215 | profile |
| Flagstaff, AZ | Bronze | 63785 | profile |
| Forest Park, IL | Bronze | 14167 | profile |
| Fort Lauderdale, FL | Bronze | 165521 | profile |
| Gainesville, FL | Bronze | 124354 | profile |
| Indiana, PA | Bronze | 13975 | profile |
| Kenmore, WA | Bronze | 22320 | profile |
| Kirkland, WA | Bronze | 87281 | profile |
| La Crosse, WI | Bronze | 51719 | profile |
| Lakeland, FL | Bronze | 98968 | profile |
| Louisville, KY | Bronze | 597337 | profile |
| Mt. Lebanon, PA | Bronze | 33137 | profile |
| New Orleans, LA | Bronze | 343829 | profile |
| Northampton, MA | Bronze | 28549 | profile |
| Portsmouth, VA | Bronze | 96470 | profile |
| Rochester, MN | Bronze | 106769 | profile |
| Saratoga Springs, NY | Bronze | 27315 | profile |
| Shorewood, WI | Bronze | 13162 | profile |
| Sisters, OR | Bronze | 2118 | profile |
| Sitka, AK | Bronze | 8881 | profile |
| Springfield, MO | Bronze | 162191 | profile |
| Wilsonville, OR | Bronze | 21484 | profile |