For this installment of Stories from the Field, Berkeley SafeTREC's Lisa Peterson chatted with Adam Fukushima, Active Transportation Manager in the Public Works Department of the City of San Luis Obispo. In this edition, Fukushima discusses the development of the City's Active Transportation Plan and Climate Action Plan, implementing pedestrian and bicycle safety improvements during the pandemic and at a time of great change, and the importance of making sure a transportation project is designed with the most vulnerable person in mind. Read his Safety Story below! 
---
What is your current role?
I am the active transportation manager in the Public Works Department of the City of San Luis Obispo. 
What inspired you to work in active transportation?
I've always enjoyed the freedom and self-sufficiency that a bike or my own two feet can provide in getting around. As a kid I walked to school every day and I remember fondly spending summers in Japan where I would go on adventures all alone using my own two feet. San Luis Obispo is fortunate to be a compact city where you can get around using active transportation nearly as fast--and sometimes faster--than using a car. It still has an environment where you can have that sense of freedom and wonder on your own two feet. 
How does the City of San Luis Obispo encourage safety for people that walk, bike, or roll for transportation?
Protected bike lane on Higuera Street in downtown San Luis Obispo (Photo credit: Jonathan Roberts)


Climate action is an important topic for the San Luis Obispo community. Since transportation is the single largest contributor to greenhouse gas emissions, the city has made an ambitious, yet achievable, goal as part of our Active Transportation Plan and Climate Action Plan to be climate neutral by 2030 and reach a goal of 20% of all trips by bike and 12%  by foot. But not only has the city set these lofty goals but enacted policies to make sure we follow through on them. For instance, the city has mandated spending our transportation dollars proportionate to our mode share targets. I don't know any other city that does that.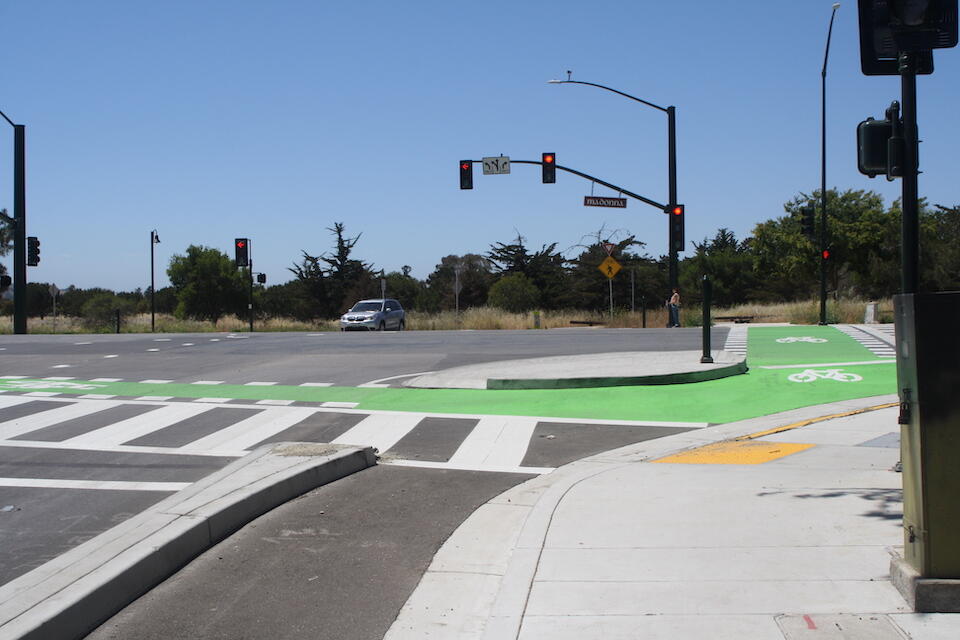 Protected intersection and shared use path on Madonna Road at Dalidio Drive (Photo credit: City of SLO)
Currently, we are working toward the completion of a core network of protected bike routes and pedestrian crossing improvements that not only encourage more people to use active transportation but also address the level of traffic stress and safety. We are also working to address safety through our Vision Zero policy and always looking for opportunities to reduce speeds both by lowering the speed limit as well as calming traffic by design.
What are the key elements of a successful active transportation project or program?
I think a successful active transportation project is one where you try to include as many benefits for as many road user types as possible, even motorists. By doing that you achieve more buy-in from the community and acceptance of changes that may be quite innovative and experimental. 
What lessons or valuable takeaways did you gain from a recent project or program? 
Pedestrian Hybrid Beacon on Foothill Boulevard at Ferrini Road (Photo credit: Jonathan Roberts)
An important takeaway for me is to always make sure a transportation project is designed with the most vulnerable person in mind. That may or may not be the people using a project now or even the current people advocating for it. But the vulnerable road user, whether it is a child or a senior, needs to be top of mind.
How has COVID influenced the work you do?
I think COVID, like for many others, has taught us to be more innovative with our communication, especially virtually. But more than that, I think it has really taught us all to be more resilient and nimble. We can approach things like a major worldwide pandemic as a threat to our already laid-out workplan. But I've learned through the pandemic experience that there are enormous opportunities that also come with such drastic and challenging change.  Don't be afraid to seize those opportunities and look at what long-term goals could also be accomplished in different ways. That has certainly been the case for us here as we've been able to roll out a number of pedestrian and bicycle safety innovations that may have taken years for the community to be ready for otherwise.
If you had a superpower and could change anything, what would the future of active transportation safety look like? 
If I had a magic wand, I would take advantage of all of the new technologies in cars to make meaningful safety improvements including using GPS to limit auto speeds to the posted limit on a given roadway. This would be so easy to accomplish technologically speaking but there just isn't the political will for that yet. Hoping one day there will be!
---
These Stories From the Field interviews were conducted in collaboration with UC Berkeley SafeTREC. The opinions and perspectives expressed are those of the interviewees and not necessarily those of SafeTREC.