For this installment of Stories from the Field, Berkeley SafeTREC's Kristen Leckie chatted with Denise Turner, Lead Program Manager for the Alameda County Safe Routes to Schools (SR2S) Program. Turner calls out the importance of making it safe, convenient, and fun for children to walk and bike to and from school. Read her Safety Story below! 
---
What is your current role?
I work for the Alameda County Transportation Commission, and my title is Associate Program Analyst – Program Coordinator. In terms of the work I do each day, I'm the Lead Program Manager for the Alameda County Safe Routes to Schools (SR2S) Program. Our program just celebrated its 15th year, and we're hard at work at the start of year 16!
What inspired you to work in active transportation?
My life's work has centered on ways to create positive impacts for children, families, and communities. I have a long history of working with programs that help people flourish and I'm fascinated by the intersectionality of life through topics such as education and early child care, housing, health, nutrition and now transportation. The Safe Routes mission– to strive for healthy kids, safer streets, and strong communities resonates with me.
How does your SR2S encourage safety for people that walk, bike, or roll for transportation?
We do this in all kinds of ways! At nearly 270 schools in Alameda County, our program staff support and facilitate events and activities that encourage and make it easier for kids to walk and roll to schools. This is as simple as providing encouraging language for school newsletters, and as complex as putting on four county-wide celebrations each year, including International Walk and Roll to School Day in the fall and the Golden Sneaker Contest in the spring. We also offer an array of workshops where we come into classrooms and teach kids the essentials for walking and biking safely, and a BikeMobile that offers free bike repairs (and lessons on how to do repairs yourself!).
Students celebrate International Walk and Roll to School Day 2021 (Photo credit: ACTC)
Beyond classroom events, the Safe Routes Program also provides technical support for schools, meaning we help with the actual act of changing the environment to be more walk- and roll-friendly. Our primary offering here is School Safety Assessments, which give schools a rundown of the challenges and needs around their campus.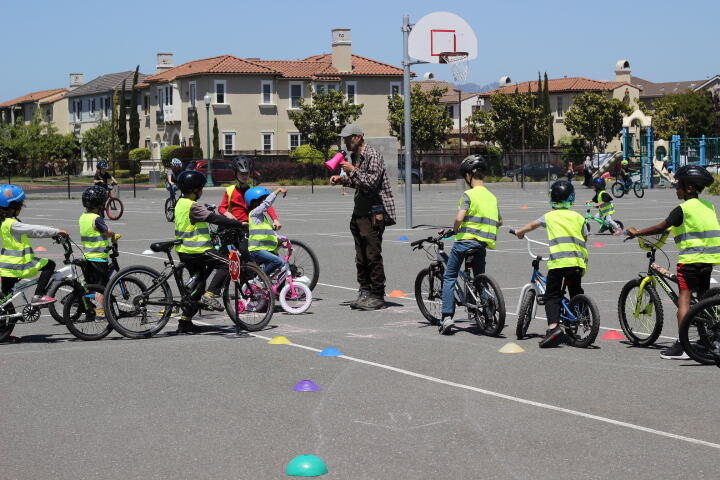 SR2S offers a number of workshops that come directly to schools, including the Bike Rodeo pictured (Photo credit: ACTC)
What does a successful SR2S program look like to you? 
It's important to me that we embody the national model for program implementation. The National Safe Routes Partnership puts forward: making it safe, convenient, and fun for children to walk and bike to and from school. We're one of the biggest Safe Routes programs in the country, and I want to ensure we're serving as a guiding light for our peers.
At the local county level, a successful program is one that's informed by the community– the people we serve, and the people who benefit from the program's success. More specifically, this means positive outcomes for children and their families with enhanced safety countermeasures that improve the built environments surrounding school campuses.
What lessons or valuable takeaways did you gain from a recent active transportation project or program? 
I'm always struck when an individual, like a school principal or teacher or student caregiver, reaches out to tell us about the impact our program has had. It can be something as simple as "with your support, we finally got a new sign installed outside of our drop-off zone!" That positive affirmation to our work may feel small, until you reflect on the context within a neighborhood and how these incremental shifts increase safety for active travel.
Something else that stands out to me about our program is the development of our Access Safe Routes Program, which delivers support to under-resourced school communities. The Access Program is all about understanding that while students at these schools stand the most to gain, the adults supporting them– both their caregivers and the staff at their schools– are often stretched very thin. We work hard to tailor Safe Routes planning to be sensitive to the context at various Access schools, and support schools for successful participation in Safe Routes initiatives.
To date, over half of the schools eligible for Access Safe Routes have participated, and we're excited to further our engagement with more schools in the coming school year.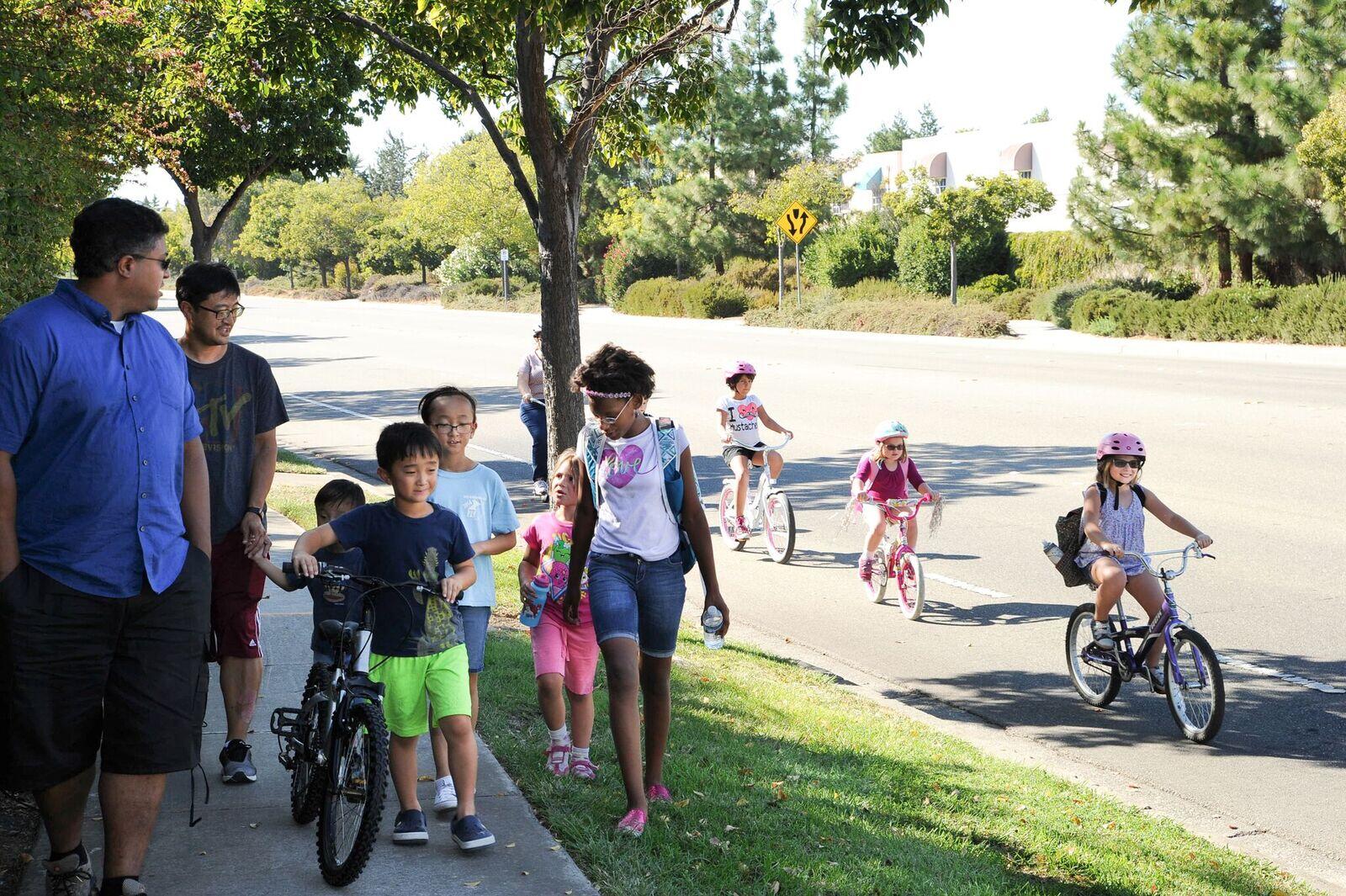 What the Safe Routes program is all about: making walking and rolling to school comfortable and easy (Photo credit: ACTC)
How has COVID influenced the work you do?
The pandemic developed during the programs 13th year of being active in Alameda County schools– and I do mean in schools. We were consistently visiting schools to deliver our hands-on activities and trainings.
We had to adapt to the sudden change and I'm really proud of how well we rose to the challenge. I'm also delighted that despite all of COVID's challenges, many of which haven't fully gone away, we haven't only maintained our impact– we've grown!
When the pandemic began, we transitioned all of our programing to online options. We offered virtual school assemblies, pedestrian and bike simulations, online community input maps for school safety assessments, webinar trainings and virtual county wide encouragement events and online surveys for input, zoom community and youth taskforce meetings, and focus groups that have increased access for more participation than ever before.
As we transitioned back to in-person direct services we've enhanced student learning outcomes by incorporating a hybrid model that offers both virtual and in-person programming. Currently, we're mainly back to in-person, but with greater flexibility to go virtual, as needed. Of course, we'll stay vigilant and flexible as the COVID-19 pandemic evolves, with an eye toward regional and local jurisdiction health guidelines.
If you had a superpower and could change anything, what would the future of active transportation safety look like?
My superpower would be all about equity and access. I'd have a magic wand, and everyone would have what they need to fully participate in active transportation!
---
Denise Turner brings over 20 years of professional expertise to her role as Associate Program Analyst for the Alameda County Transportation Commission (ACTC) where she leads as Program Manager for the Alameda County Safe Routes to Schools (SR2S) program and related initiatives.  As an active transportation professional, Denise enjoys incorporating program management with subject matter expertise in Federal, State, and locally funded operations that benefit communities.  Previously, as a Program Specialist in county government, Denise staffed a Strategic Planning Council that seats members who are appointed by the Alameda County Board of Supervisors and the Alameda County Superintendent of Schools.  Denise has also enjoyed work in city government for the Human Services Department of the City of Oakland and in the nonprofit sector for organizations such as the global headquarters for Habitat for Humanity International, Easter Seals of North Georgia, and the American Red Cross.  Denise holds a Master's Degree in Public Administration and Management with a concentration in Public Policy from California State University – East Bay and a Bachelor's degree in Social Work from Clark Atlanta University.
---
This Stories From the Field interview was conducted in collaboration with UC Berkeley SafeTREC. The opinions and perspectives expressed are those of the interviewee and not necessarily those of SafeTREC.
---