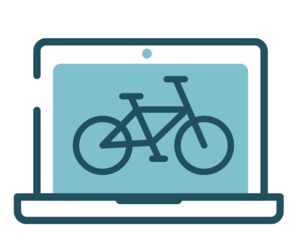 Explore our round-up of webinars and events coming up highlighting the latest road safety trends and best practices in planning and designing safe spaces for walking, biking, scooting, and rolling! Have an event you'd like us to share? Please submit your event here.
Also, these opportunities can be found on the event calendar here.
WEBINARS
Using E-Bike Incentive Programs to Expand the Market – Trends and Best Practices
Host: UC Davis ITS as part of the Friday Seminar
May 6, 2022 | 11:30am PT | Register
John MacArthur and Cameron Bennett of Portland State University will be presenting the findings and recommendations from their recent white paper "Using E-Bike Incentive Programs to Expand the Market – Trends and Best Practices." This will include a review of the 50+ current, past, and proposed e-bike purchase incentive programs in North America, including summary statistics and details from exemplary programs. Best practice gained from review of the programs and discussion with program managers, industry professionals, and other stakeholders will be shared. A discussion of the benefits of promoting e-bike uptake in regard to mode shift, VMT, emissions, and human health will be provided to support the value added by an incentive program. Finally, John and Cameron will preview upcoming results from their stated preference survey intended to provide quantitative guidance for e-bike purchase incentive program design.
This event is part of the Friday Transportation Seminar Series and will be online and in person.
Learn more and register.

Data for Active Transportation Research and Planning
Host: UC Davis ITS as part of the Friday Seminar
May 6, 2022 | 1:30pm PT | Watch

Lack of available data can be a barrier to bicycling and pedestrian research and planning. Much of my team's research focuses on building novel data sources to map bicycling infrastructure, safety, and volume. In this presentation I will outline how we are using OpenStreetMaps to map bicycle infrastructure, crowdsource webmaps (BikeMaps.org and WalkRollMap.org) to map safety and access concerns, and modelling ridership using Strava data. I will discuss how crowdsource data provide unique opportunities to enhance active transportation data, but also challenges particularly around representativeness and equity.

Acting with Urgency: What's the road to Safer Vehicles?
Host: Vision Zero Network
May 11, 2022 | 10am PT | Register
Join us in the third of our series "Acting with Urgency" to discuss how to effectively advocate for Safer Vehicles, a key component in the new National Roadway Safety Strategy and critical to advancing the goal of Vision Zero – safe mobility for all people. We'll delve into questions that more of us are asking: What needs to change to address today's situation of unsafe vehicles? Who is responsible for making changes? Why isn't this happening already? What can we do to push for change?
Panelists include:
Angie Schmitt, Urban planner, the author of "Right of Way: Race, Class, and the Silent Epidemic of Pedestrian Deaths in America";
David Zipper, Visiting Fellow at Harvard Kennedy School;
Tara Gill, Senior Director of Advocacy and State Legislation at Advocates for Highway & Auto Safety.
About the event and how to register.

The Guidance is Out! Next Steps for Transportation Alternatives, Safe Routes to School, Safety, and Climate Programs
Host: Safe Routes Partnership
May 12, 2022 | 11am PT | Register
It's official! Federal guidance on programs related to walking, bicycling, and Safe Routes to School is out, and now we are moving forward to make it easier, safer, and more equitable for people to walk and bike. What are the next steps in Transportation Alternatives, Safety, and Climate programs? In partnership with the League of American Bicyclists, we invite you to join a webinar on Thursday, May 12th at 2p ET/11a PT to find out.
Speakers:
Marisa Jones, Policy & Partnerships Director at Safe Routes Partnership

Caron Whitaker, Deputy Executive Director at the League of American Bicyclists

Vehicle Safety for Pedestrians 101
Host: America Walks
May 12, 2022 | 11am PT | Register
It's well known now: Vehicles in the U.S. are getting bigger, more angry-looking, and more dangerous to pedestrians. And it's leading to near-record-high pedestrian deaths. But for the first time in U.S. history, federal regulators are taking steps to help ensure vehicles are safer for those outside cars. A new rule-making from NHTSA would finally begin rating cars — on the five-star scale — for impacts to pedestrians. New crash avoidance technologies — like automatic emergency braking — that have major potential to reduce deaths and injuries will be subject for testing and in some cases mandated. Join us with panelists Catherine Chase, President of Advocates for Highway and Auto Safety, and Sindhu Bharadwaj, Program Manager of Policy at NACTO while we unpack what's at stake and how you can get involved in ensuring the new regulation goes far enough to protect pedestrians.

Understanding the Effects of COVID-19 on Impaired Driving
Host: Transportation Research Board
May 13, 2022 | 11:30am PT | 
Register
COVID-19 has certainly changed the landscape of transportation safety. Despite a decrease in vehicle miles traveled, the National Highway Traffic Safety Administration (NHTSA) and the National Safety Council (NSC) both reported increases in risky driving behaviors, particularly impaired driving in 2020 and 2021. TRB will host a webinar on Friday, May 13, 2022 from 2:30 PM to 4:00 PM Eastern that will explore pandemic-related drinking and driving behaviors along with priority impaired-driving research needs. Presenters will discuss serious and fatal crashes due to these behaviors
This webinar is sponsored by the TRB Standing Technical Committee on Impairment in Transportation.
Registration is free for employees of TRB sponsors as well as Titanium and Cobalt Global Affiliates. The registration rate for all other attendees is $60.
Visit TRB for the agenda, learning objectives and registration link.


Why Your City Needs a Car Master Plan
Host: Portland State University TREC
May 13, 2022 | 11:30am PT | 
Register
In 2022, cars are ubiquitous and completely embedded into America's economy and social fabric. American cities don't make car plans, but all transportation plans – whether they are for people who walk, bike, take transit, run freight or delivery businesses – are all written in response to cars. Transportation planning is all about cars; supporting cars or constraining cars. How did our cities evolve into places where cars dominate, and where can we go from here? To move to a new paradigm, cities need to acknowledge car dominance and focus on cars with the same rigor they do other modal plans – the history of cars in the city, the streets cars dominate, the actual vehicles, the drivers, and our future with cars. In the process of writing a Car Master Plan for Downtown Portland, Cathy Tuttle uncovered remarkable new information about curb space use, asphalt, and the four types of drivers.

This event is part of the Friday Transportation Seminar Series and will be online and in person. Learn more and register.

Rural Funding Opportunities in the Bipartisan Infrastructure Law
Host: The National Center for Rural Road Safety and NLTAPA Safety Work Group 
Hey rurals! We're sure you have heard the new Bipartisan Infrastructure Law includes new funding for rural areas. For this webinar, we invite you to come hear about some of these exciting opportunities, including the Highway Safety Improvement Program (HSIP) implications of the new law, an overview of the special rules, including High Risk Rural Roads (HRRR) and the Tribal Transportation Program Safety Fund grants. 

Pop-ups, Play Streets, and Placemaking: Exploring Innovative Safe Routes to School Projects
Host: Safe Routes Partnership
May 17, 2022 | 10am PT | Register
Do you find yourself going back to the same Safe Routes to School activities year after year? If so, your program might be in need of a refresh! Join Safe Routes Partnership and the Colorado Department of Transportation, as we highlight some of the newest and most innovative ideas from Safe Routes to School including pop-up projects, fun giveaways, and creative collaborations. We will also take time to celebrate successes from the past year and prepare for the upcoming grant application cycle.

"I have the data, now what?" A closer look at data collection, collaboration and planning between community and governmental agencies
Host: UC Berkeley SafeTREC
May 17, 2022 | 11am PT | Register
Join UC Berkeley SafeTREC to learn more about how agencies and coalitions collaborate to collect and analyze data from Street Story, an online community engagement tool. The panelists will discuss collaborative efforts and how the data has been used to apply for grant funding and implement projects to make walking, biking and rolling safer in their communities. Street Story allows community groups and agencies to collect local information about transportation crashes, near-misses, general hazards, as well as safe locations to travel.
Learn more about this free webinar and register.

Tactical Urbanism: Taking Short-Term Actions to Generate Long-term Change
Host: Smart Growth Online
May 18, 2022 | 10am PT | Register
Pop-up parks, plazas, and full street redesigns have become powerful, adaptable, creative, and low-cost tools to drive lasting improvements in communities the world over.
Whether creating vibrant plazas seemingly overnight or re-imagining streets to better support transit, walking and cycling, these types of projects, known as "tactical urbanism," offer a way for communities to gain support for infrastructure investment while inspiring residents and civic leaders to experience and shape their urban spaces in a new way.
Join the Maryland Department of Planning and the Smart Growth Network as Mike Lydon and Anthony Garcia, authors of Tactical Urbanism: Short-term Action for Long-term Change, share the key findings from their book and what has changed since it was released.
Find out more and register for this free webinar.

Shifting Our Thinking: Mode Shift for Safer Streets
Host: Road to Zero Coalition
May 18, 2022 | 11am PT | Register
Getting to Zero Traffic Death will require making every mode safe and accessible. Swapping even a single trip for walking, biking, or transit can help reduce roadway fatalities. This webinar will hear from advocates and policy-makers on the importance of mode shift and how it can be supported.

Introducing the Safer Streets Priority Finder, an Open-Source Tool for Evaluating Network Level Pedestrian and Bicycle Safety
Host: APBP
May 18, 2022 | 12pm PT | Register
The SSPF is an open-source tool that provides data-driven systemic safety analysis with a low barrier to entry. The tool allows users to identify higher risk portions of the road network by conducting two analyses: a sliding windows analysis (the framework of HINs), and the Safer Streets Model, a Bayesian statistical model which complements crash history with other information such as functional class, VMT, density, land use, walk and transit commuting, pedestrian generators, and demographics. The model (available for pedestrian and bicycle crashes) quantifies risk in terms of the expected "cost" of crashes on the network which can inform maintenance planning and benefit cost analysis. The tool also includes a built-in crash dashboard, visualizations, and report feature for summarizing and sharing findings. In addition to a demonstration of the tool we will offer examples of use cases.

Fee:  $50 members, $85 non-members

Planning for the Future - Safe Routes to School Advocacy and National Program Highlight
Host: Safe Routes Partnership
May 19, 2022 | 1pm PT | Register
Safe Routes Partnership and the Houston Health Department as they conclude their Houston Safe Routes to School webinar series. This webinar will highlight how Charlotte, D.C. Metro, and Tucson are using Safe Routes to School to improve safety, educate students on walking and biking, and advance larger health and wellness initiatives. Participants will also receive helpful strategies around advocating for Safe Routes to School funding, resources to help get your program off the ground, and learn who to connect with on a district/county/city level, what to ask for, and how to build a coalition of advocates.

Bay Area Bike To Work Day
Host: Metropolitan Transportation Commission (MTC)
"This May, Bike Month and "Bike to Wherever Days" (BTWD) once again will roll across the nine counties of the Bay Area, and include the return of Bike to Work Day on May 20.
For the first time in two years, many employees are beginning to return to their offices, small businesses are seeing a rise in customers and clients, and bicycles once again are being used for commuting – as well as exercise, recreation, traveling to school, running errands and more.
As a result, BTWD 2022 – the event's 28th year – will be a celebration throughout the entire month of May and will be highlighted by Bike to Work Day, which was modified the last two years due to the pandemic." Read more on the blog.
Learn more: https://bayareabiketowork.com/

Prioritizing Transit in Portland: Checking in on the Rose Lanes Project
Host: Portland State University TREC
Transit priority lanes restrict access to certain lanes, prioritizing transit movement, while sometimes allowing for other users or specific actions - for example shared bus and bike lanes, or shared bus and right-turn lanes. Red coloring is sometimes used to reinforce the transit priority with the goal of improving the reliability, safety and compliance with the lane restrictions. The City of Portland and TriMet have been working with partners to use these tools to improve mobility and transit access under the Enhanced Transit Corridors Plan and Rose Lanes Project. This presentation will report back on early lessons learned as part of the design, implementation and evaluation of these facilities, with presenters from the City of Portland, TriMet and Portland State University.

This event is part of the Friday Transportation Seminar Series and will be online and in person. Learn more and register.

Conducting ATP Project Counts: Refreshers and Reminders
Host: Active Transportation Resource Center
Please join the Active Transportation Resource Center (ATRC) for the next 
On the Move Synergy 2022 
Teleconfer
ence event, 
Conducting ATP Project Counts: Refreshers and Reminders
. This teleconference is intended for current project implementers as well as prospective ATP Project applicants from all ATP Cycles. Presenters will clarify pre-and post-project implementation count requirements for different ATP project types, and provide updates on the status of the National Safe Routes to School Data System, as well as the Caltrans' Statewide Active Transportation Counts Database and the ATRC's upcoming Evaluation and Regional Technical Assistance Program. In addition, this teleconference will feature lessons learned from select local jurisdictions that have borrowed counter equipment from the ATRC's counter loan program. As always, this teleconference will allow for a robust Q&A with panelists and the ATRC team.
Special Presentations:
Teresa McWilliam, Caltrans ATP Team, "Clarifying pre-and post-project implementation active transportation count requirements for ATP project types."
Victoria Custodio, California Department of Public Health and ATRC NI team, "An update on the National Safe Routes to School Data System for California ATP implementers."
Summer Lopez, Caltrans ATP NI Projects and ATRC Coordinator, "Looking ahead: Plans in play for the Statewide Active Transportation Counts Database and Evaluation and Regional Technical Assistance Program."
Local agency - to be determined, "Lessons learned from the ATRC Counter Loan Program."
Learn more and register.
CONFERENCES
National Shared Mobility Summit
Host: Shared-Use Mobility Center
May 17 – 18, 2022
Shared mobility is fundamental for a sustainable, equitable future, but we need to work together to make it work. We need collective action. Together—public agencies, private companies, nonprofits, community groups, and advocates—we will explore the values, interests, and goals we have in common. At speeches, workshops, panels, and field trips, we will try to break down silos and bridge gaps. To lay the groundwork for successful partnerships and mobilize toward multimodal transportation systems. We will explore new technologies that promise it all, and from behavior change to funding, we will begin to address the challenges that hold us back. 
COMMUNITY EVENTS
2022 Ride of Silence
May 18, 2022 | 7pm PT
On Wed. May 18th, 2022 at 7:00 PM, the Ride of Silence will traverse and unite the globe as nothing before it. Cyclists will take to the roads in a silent procession to honor cyclists who have been killed or injured while cycling on public roadways. Although cyclists have a legal right to share the road with motorists, the motoring public often isn't aware of these rights, and sometimes not aware of the cyclists themselves.

Learn more about this event.
SAFETY CAMPAIGNS
Bicycle Safety Month
May 1 – 31, 2022
May is National Bicycle Safety Month. Explore these resources and safety tips to promote safe and enjoyable biking for all this month: