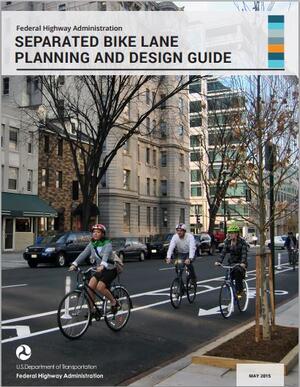 The Federal Highway Administration's (FHWA) new Separated Bike Lane Planning and Design Guide is an important resource for communities across the United States to use in building safe and connected bicycle networks that meet the needs of people of all ages and abilities.
This guide outlines planning considerations and design options for innovative bicycle facilities. It provides information on one and two-way scenarios, outlines different options for providing separation, and highlights midblock design considerations including driveways, transit stops, accessibility, and loading zones. It also covers topics such as turning movement operations, signalization, signage, and on-road markings.
Best of all, the guide contains numerous case studies highlighting best practices and lessons learned from various communities across the country.
Take a look at the Separated Bike Lane Planning and Design Guide and use it as a resource to encourage bicycle travel and improve bicycling infrastructures in your community.