The League of American Bicyclists designates cities and localities as "Bicycle-Friendly" based on their use of measures that promote bicycling. The League has developed Building a Bicycle-Friendly America to guide implementation and policy.
The Bicycle Friendly Community Program (BFC) provides incentives, hands-on assistance, and award recognition for communities that actively support bicycling. A Bicycle Friendly Community welcomes cyclists by providing safe accommodation for cycling and encouraging people to bike for transportation and recreation. 
Learn more about becoming a more bicycle-friendly community!
The League is now accepting applications for its latest awards cycle, with a deadline of February 15, 2023 for Communities and November 3, 2023 for Businesses. The 2023 submission form will be open soon for Universities. Click here to apply.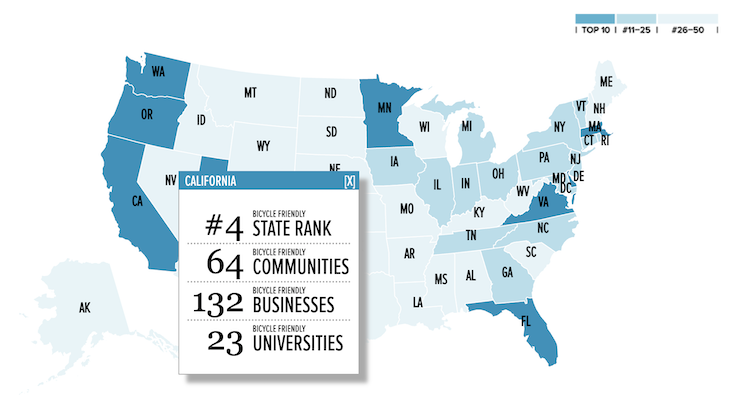 Nationally, California currently ranks as the #4 state with 61 bicycle friendly communities, 124 bicycle friendly businesses and 21 bicycle friendly universities. Visit The League of American Bicyclists Award Database to view more information on each state.
Explore California's bicycle-friendly communities, businesses and universities:
CALIFORNIA
COMMUNITY
AWARD
POPULATION
JURISDICTION
LAND USE
PROFILE

Alameda

Silver
78863
Town/City/Municipality

Urban

profile |map

Arcata

Silver

18374

Town/City/Municipality
Small town
profile |map

Arroyo Grande

Bronze
19704

Town/City/Municipality

Suburban
profile |map

Brentwood

Bronze
62834
Town/City/Municipality
Urbanized area
profile |map

Chico

Gold
110326
Town/City/Municipality
Urban
profile |map

Chula Vista

Bronze
267172
Town/City/Municipality
Urbanized area
profile |map

Coronado

Silver
25952
Town/City/Municipality
Urbanized area
profile |map

Cupertino

Bronze
60189
Town/City/Municipality
Urban
profile |map

Davis

Platinum
69289
Town/City/Municipality
Urban
profile |map

Eastern Placer County (North Lake Tahoe Area)

Bronze
9634
County/Borough/Parish
Small town
profile |map

Emeryville

Silver
10777

Town/City/Municipality

Urban
profile |map

Encinitas

Bronze
62780

Town/City/Municipality

Low density suburban
profile |map

Folsom

Silver
77246

Town/City/Municipality

--
profile |map 

Fremont

Silver
241110
Town/City/Municipality
Urban
profile |map 

Fresno

Bronze
527438
Town/City/Municipality
Urbanized area
profile |map 

Gilroy

Bronze
56000
Town/City/Municipality
Urban core surrounded by low density suburban area
profile |map 

Healdsburg

Bronze
11700
Town/City/Municipality
Small town
profile |map 

Huntington Beach

Bronze
189707
Town/City/Municipality
Suburban
profile |map 

Irvine

Silver
281707
Town/City/Municipality
Urban
profile |map 

Long Beach

Silver
474140
Town/City/Municipality 
Urbanized area
profile |map 

Los Altos

Bronze
28976
Town/City/Municipality
Suburban
profile |map 

Los Angeles

Bronze
3928864
Town/City/Municipality
Urbanized area
profile |map 

Menlo Park

Gold
33888

Town/City/Municipality

Low density suburban
profile |map 

Mill Valley

Silver
14355

Town/City/Municipality

Urban core surrounded by low density suburban areas
profile |map

Morro Bay

Bronze
10635

Town/City/Municipality

Small town
profile |map 

Mountain View

Silver
77800
Town/City/Municipality
Suburban
profile |map 

Napa

Bronze
79074
Town/City/Municipality
Urban
profile |map 

Oakland

Gold
412040
Town/City/Municipality
Urbanized area
profile |map 

Oceanside

Silver
175622
Town/City/Municipality
Urban core surrounded by low density suburban areas
profile |map 

Orange County

Bronze
3175692
Regional Planning Organization
Urban
profile |map 

Palo Alto

Gold
67082
Town/City/Municipality
Suburban
profile |map 

Pleasanton

Bronze
73067
Town/City/Municipality
Low density suburban
profile |map 

Rancho Cordova

Bronze
75087
Town/City/Municipality
Suburban
profile |map 

Rancho Cucamonga

Bronze
177452

Town/City/Municipality

Urban core surrounded by low density suburban areas
profile 

|

map 

Redding

Bronze
89861
Town/City/Municipality
Low density suburban
profile |map 

Redondo Beach

Bronze
66748

Town/City/Municipality

--
profile 

|

map 

Redwood City

Bronze
80872

Town/City/Municipality

Suburban
profile 

|

map 

Riverside

Bronze
324722

Town/City/Municipality

Urban core surrounded by low density suburban areas
profile

|

map 

Roseville

Bronze
141500

Town/City/Municipality

Low density suburban
profile

|

map 

Sacramento

Silver
475536
Town/City/Municipality
Urban
profile |map 

San Carlos

Bronze
29931
Town/City/Municipality
--
profile |map 

San Diego

Bronze
1406630
Town/City/Municipality
Urbanized area
profile |map 

San Francisco

Gold
881549
Town/City/Municipality
Urban
profile |map 

San Luis Obispo 

Gold
47446
Town/City/Municipality

Urban core surrounded by low density suburban areas

profile |map 

San Mateo

Bronze
103536
Town/City/Municipality
--
profile |map 

San Mateo County

Bronze
718451
County
Suburban
profile |map 

San Ramon

Bronze
79000

Town/City/Municipality

Urban core surrounded by low density suburban areas

profile

 |

map

Santa Barbara

Silver
88665

Town/City/Municipality

Urbanized area

profile

 |

map

Santa Clara

Bronze
116468
Town/City/Municipality

Urban core surrounded by low density suburban areas

profile |map

Santa Clarita

Silver
218100
Town/City/Municipality
Urbanized area
profile |map 

Santa Cruz

Gold
59946

Town/City/Municipality

Suburban
profile |map 

Santa Monica

Gold
90401
Town/City/Municipality
Urban
profile |map 

Santa Rosa

Silver
181594
Town/City/Municipality

Urban core surrounded by low density suburban areas

profile |map 

Solano Beach

Silver
13500
Town/City/Municipality
Urbanized area
profile |map 

Sonoma

Bronze
11054
Town/City/Municipality
Small town
profile |map 

South Lake Tahoe

Silver
21403
Town/City/Municipality
--
profile |map 

South San Francisco

Bronze
67429
Town/City/Municipality
Urbanized area
profile |map 

Sunnyvale

Bronze
151754

Town/City/Municipality

Urban

profile |map 

Temecula

Bronze
110003

Town/City/Municipality

Urbanized area

profile

 |

map 

Thousand Oaks

Bronze
129349
Town/City/Municipality
Suburban
profile |map 

Ventura

Bronze
109000
Town/City/Municipality

Urban 

profile

 |map 

Watsonville

Bronze
53856
Town/City/Municipality
Urbanized area
profile |map 

West Sacramento

Silver
53000
Town/City/Municipality
Urban core surrounded by low density suburban areas
profile |map 

Woodland

Bronze
55468
Town/City/Municipality
Suburban
profile |map 
BUSINESS
AWARD
EMPLOYEES
CITY
INDUSTRY
A2B
Gold
5
San Francisco
Bicycle Industry
map 

Alameda Bicycle

Gold

12

Alameda
Bicycle Industry
map

Alta Planning + Design, Los Angeles Office

Gold

16

Los Angeles
Professional Services
map

Alta Planning + Design, Oakland Office

Silver

18

Oakland

Professional Services
map 
Alta Planning + Design, San Diego Office
Bronze
5
San Diego
Professional Services
map 
Alta Planning + Design, San Jose Office
Silver
1
San Jose
Architecture/ Planning/ Design
map 
American Cyclery
Silver
8
San Francisco

Bicycle Shop

map 
Atascadero Unified School District
Silver
600
Atascadero
Education
map 
Bike Arvin
Gold
1
Arvin
Non-Profit
map
Bike Bakersfield
Gold
3
Bakersfield
Non-Profit
map 
Blue Oak Energy
Bronze
43
Davis
Professional Services
map 
Bosch eBike Energy
Silver
18
Irvine
Bicycle Industry
map 
California State University, Long Beach
Gold
3464
Long Beach
Education
map
Caltrans HQ
Silver
1450
Sacramento
Government Agency
map 
Capitol Yards
Gold
390
West Sacramento
Real Estate & Housing
map
Central Coast Transportation Consulting
Bronze
3
Morro Bay
Professional Services
map 
City of Arcata, City Hall
Bronze
84
Arcata
Government Agency
map 
City of Coronado, City Hall
Silver
277
Coronado
Government Agency
map 
City of Cupertino, Civic Center Plaza
Gold
104
Cupertino
Government Agency
map 
City of Rancho Cordova
Bronze
75
Rancho Cordova
Government Agency
map 
City of San Luis Obispo
Silver
463
San Luis Obispo
Government Agency
map 
City of Santa Monica
Gold
1235
Santa Monica
Non-Profit/ Government
map 
CityLine Sunnyvale
Bronze
750
Sunnyvale
Real Estate & Housing
map
Clif Family Winery
Gold
45
St. Helena
Hospitality/ Food/ Retail
map 
Coffee Hub & Cafe
Gold
8
San Diego
Hospitality/ Food/ Retial
map 
County of San Luis Obispo
Bronze
2100
San Luis Obispo
Government Agency
map 
Crossroads School for Arts and Science
Silver
344
Santa Monica
Non-Profit/ Government
map 

David Baker Architects

Gold

30

San Francisco
Architecture/ Planning/ Design
map 

Davis Community Church

Bronze

9

Davis
Non-Profit
map

Davis Food Co-op

Bronze

49

Davis
Hospitality/ Food/ Retial
map
Davis Lutheran Church
Bronze
5
Davis
Non-Profit
map
Deckers Outdoor Corporation
Gold
400
Goleta
Hospitality/ Food/ Retail
map
Dokken Engineering
Silver
77
Folsom
Professional Services
map
Dr. J's Bike Shop / Santa Barbara Wine Country Cycling Tours
Gold
15
Solvang
Bicycle Shop
map
Dubuque Innovation Center
Bronze
300
South San Francisco
Real Estate & House
map
Econo Bike Shop
Silver
2
Redlands
Bicycle Shop
map
First Community Housing
Gold
15
San Jose
Non-Profit
map
Genentech
Gold
15000
South San Francisco
Other
map
GHD Inc. 
Silver
48
Eureka
Architecture/ Planning/ Design
map
Giant Bicycle
Gold
55
Newbury Park
Bicycle Industry
map
Giant Santa Monica
Silver
5
Santa Monica
Bicycle Shop
map
Gilead Sciences, Inc.
Silver
500
Foster City
Biopharmaceutical
map
Ground Control Systems
Platinum
14
Sacramento
Bicycle Industry
map
Hot Italian
Bronze
30
Sacramento
Hospitality/ Food/ Retail
map 
Humboldt State University
Bronze
1029
Arcata
Education
map
Huntington Beach, Chamber of Commerce
Bronze
6
Huntington Beach
Non-Profit/ Government
map
Iteris, Inc. 
Bronze
150
Santa Ana
Transportation
map
Jax Bicycle Center
Gold
11
Irvine
Bicycle Shop
map
Jenson USA
Bronze
76
Riverside
Bicycle Industry
map
Kaiser Permanente, Sacramento Medical Center
Bronze
1700
Sacramento
Medical/Health Services
map

Kaiser Permanente, Fair Oaks MOB

Bronze

250
Sacramento

Medical/Health Services

map

Kaiser Permanente, Folsom

Gold

400
Folsom

Medical/Health Services

map
Kaier Permanente, Point West MOB
Silver
650
Sacramento
Medical/ Health Services
map
Karen's Bakery & Cafe
Bronze
35
Folsom
Hospitality/ Food/ Retail
map
Kittelson & Associates Inc., Oakland
Bronze
9
Oakland
Professional Services
map
KLA
Silver
1500
Milpitas
Manufacturing/ Research
map
KOA Corporation, Orange
Silver
18
Orange
Other
map
KTUA
Gold
38
San Diego
Architecture/ Planning/ Design
map
Kuvara Law Firm
Silver
16
San Rafael
Legal
map
La Dolce Velo
Gold
9
San Jose
Bicycle Shop
map
Langan Engineering and Environmental Services (Oakland)
Bronze
36
Oakland
Professional Services
map

Langan Engineering and Environmental Services (San Francisco)

Bronze
49
San Francisco

Professional Services

map
Las Cumbres Observatory Global Telescope Network, Inc. 
Bronze
35
Goleta
Non-Profit/ Government
map
League to Save Lake Tahoe
Silver
15
South Lake Tahoe
Non-Profit
map
LinkedIn
Platinum
3800
Sunnyvale
Technology & Information
map 
Lockheed Martin Space Systems
Bronze
3000
Sunnyvale
Manufacturing/ Research
map
LSC Transportation Consultants, Inc., Tahoe City Office
Silver
8
Tahoe City
Transportation
map
Lyft Level 5
Bronze
432
Palo Alto
Transportation
map
lynda.com
Bronze
350
Carpinteria
Professional Services
map
Main Street Garage
Bronze
4
Upland
Transportation
map
Meta Burlingame
Gold
4000
Burlington
Telecommunications & Media 
map
Meta Fremont
Platinum
5300
Fremont

Telecommunications & Media 

m

ap

Meta HQ - Menlo Park

Platinum

27000
Menlo Park

Telecommunications & Media 

m

ap

Meta San Francisco

Platinum

4300
San Francisco

Telecommunications & Media 

m

ap
Meta Sunnyvale

Platinum

4700
Sunnyvale 

Telecommunications & Media 

m

ap

Mixte Communications, Inc. 
Gold
9
San Diego
Professional Services
map
Mogavero Architects
Bronze
25
Sacramento
Architecture/ Planning/ Design
map
Morrison & Foerster LLP - Palo Alto
Bronze
150
Palo Alto
Legal
map

Morrison & Foerster LLP - San Francisco

Silver
517
San Francisco
Legal
map

Mow It Down Landscaping, Inc.

Bronze
8
Riverside
Construction/Utilities/Contracting
map
National Interscholastic Cycling Association
Gold
10
Berkeley
Non-Profit/ Government
map
Natural Resources Defense Council
Silver
37
Santa Monica
Non-Profit
map
NORR Associates Inc.
Silver
24
Sacramento
Architecture/ Planning/ Design
map
North Natomas Jibe- Walk. Bike. Bus.
Gold
4

Sacramento

Transportation
map
Nugget Markets - Food 4 Less #30 
Bronze
66
Woodland
Hospitality/ Food/ Retail
map
Nugget Markets - Nugget #1
Bronze
100
Woodland
Hospitality/ Food/ Retail
map
Nugget Markets - Nugget #2
Bronze
83
Davis
Hospitality/ Food/ Retail
map
Nugget Markets - Nugget #12
Bronze
181
Davis
Hospitality/ Food/ Retail
map
Oceano Elementary School
Gold
440
Oceano
Education
map
Palo Alto Bicycles Inc.
Gold
15
Palo Alto
Bicycle Shop
map
Pedego Upland Electric Bikes
Gold
4
Upland
Bicycle Industry
map
Phelps
Silver
92
Santa Monica
Professional Services
map
Prevelo Bikes
Silver
2
Temecula
Bicycle Industry
map
Pure Cycles
Gold
33
Burbank
Bicycle Industry
map
Quincy Engineering, Inc. 
Bronze
50
Rancho Cordova
Architecture/ Planning/ Design
map
Rincon Consultants
Bronze
11
Oakland
Architecture/ Planning/ Design
map
Rubin Postaer and Associates
Bronze
450
Santa Monica
Advertising Agency
map
Rubrik Inc.
Silver
604
Palo Alto
Technology & Information
map
Sacramento Area Bicycle Advocates
Platinum
8
Sacramento
Non-Profit
map
San Diego Association of Governments (SANDAG)
Silver
290
San Diego
Government Agency
map
San Diego Gas & Electric
Bronze
1500
San Diego
Construction/ Utilities/ Contracting
map
Santa Barbara Bicycle Coalition
Platinum
--
Santa Barbara
Bike Industry
map
Santa Cruz Beach Boardwalk
Bronze
200
Santa Cruz
Travel & Tourism
map

SAP Labs, LLC Palo Alto

Gold
1850
Palo Alto

Technology & Information

map
SAP San Ramon
Silver
800
San Ramon
Technology & Information
map
Sempra Energy
Silver
780
San Diego
Construction/ Utilities/ Contracting
map
Service Objects
Bronze
18
Santa Barbara
Technology & Information
map
Sierra Nevada Brewing Co. 
Silver
500
Chico
Brewery
map
SLOCOG / RIDESHARE
Gold
20
San Luis Obispo
Government Agency
map
Sonoma County Transportation Authority/Regional Climate Protection Authority
Bronze
14
Santa Rosa
Government Agency
map
SONOS INC
Platinum
389
Santa Barbara
Telecommunications & Media
map
Southern California Association of Governments (SCAG)
Bronze
150
Los Angeles
Government Agency
map
Specialized Bicycle Components
Gold
383
Morgan Hill
Bicycle Industry
map
SRAM, San Luis Obispo
Gold
38
San Luis Obispo
Bicycle Industry
map
Stanford Research Park
Platinum
1800
Palo Alto
Real Estate & Housing
map
Summit Bicycles, San Jose
Bronze
12
San Jose
Bicycle Industry
map
Sustainable Technologies
Bronze
5
Alameda
Building Construction/ Skilled Trades
map
Sutter, Santa Rosa Regional Hospital
Bronze
900
Santa Rosa
Hospitality Food/ Retail
map
Synaptics
Silver
700
San Jose
Technology & Information
map
Tesla Transportation
Bronze
1876
Palo Alto
Technology & Information
map
The Albright
Bronze
29
Santa Monica
Hospitality/ Food/ Retail
map
The Arbors Apartments
Bronze
3
Davis
Real Estate & Housing
map
The Bike Center
Platinum
8
Santa Monica
Bicycle Shop
map
The Specialized Foundation
Platinum
3
Morgan Hill
Non-Profit
map
Timbuk2
Bronze
64
San Francisco
Hospitality/ Food/ Retail
map
University of California, Davis
Platinum
16282
Davis
Education
map
University of California, Santa Barbara
Gold
4600
Santa Barbara 
Education
map
UrbanTrans North America, Los Angeles
Silver
2
Los Angeles
Transportation
map
Ventura Bike Depot, Inc. 
Gold
4
Ventura
Bicycle Shop
map
VMware
Silver
5000
Palo Alto
Technology & Information
map
Williams Sonoma, Inc.
Silver
400
San Francisco
Hospitality/ Food/ Retail
map
Woodland Community College
Bronze
300
Woodland
Education
map
Yolo-Solano Air Quality Management District
Bronze
22
Davis
Non-Profit/ Government
map
| UNIVERSITY | AWARD | ENROLLMENT | CITY | |
| --- | --- | --- | --- | --- |
| Cal Poly, San Luis Obispo | Bronze | 22000 | San Luis Obispo | map |
| California Institute of Technology | Bronze | 2423 | Pasadena | map |
| California State University, Bakersfield | Bronze | 10545 | Bakersfield | map |
| California State University, Monterey Bay | Bronze | 7545 | Seaside | map |
| California State Univerity, Northridge | Bronze | 38716 | Northridge | map |
| California State University, Long Beach | Silver | 38074 | Long Beach | map |
| California State University, Sacramento | Silver | 30500 | Sacramento | map |
| Loyola Marymount University | Bronze | 8433 | Los Angeles | map |
| Pomona College | Bronze | 1581 | Claremont | map |
| San Francisco State University | Bronze | 30256 | San Francisco | map |
| Santa Monica College | Silver | 30000 | Santa Monica | map |
| Stanford University | Platinum | 20069 | Redwood City | map |
| University of California, San Diego | Bronze | 38798 | La Jolla | map |
| University of California, Berkeley | Gold | 42347 | Berkeley | map |
| University of California, Davis | Platinum | 37266 | Davis | map |
| University of California, Irvine | Platinum | 36032 | Irvine | map |
| University of California, Los Angeles | Gold | 45930 | Los Angeles | map |
| University of California, Riverside | Bronze | 25548 | Riverside | map |
| University of California, Santa Barbara | Platinum | 25145 | Santa Barbara | map |
| University of California, Santa Cruz | Silver | 18800 | Santa Cruz | map |
| University of La Verne | Silver | 8600 | La Verne | map |
| University of San Diego | Bronze | 8900 | San Diego | map |
| University of San Francisco  | Bronze | 10039 | San Francisco | map |