Looking for funding opportunities to support active transportation projects in your community? See below for two opportunities from America Walks and the U.S. Department of Transportation!
---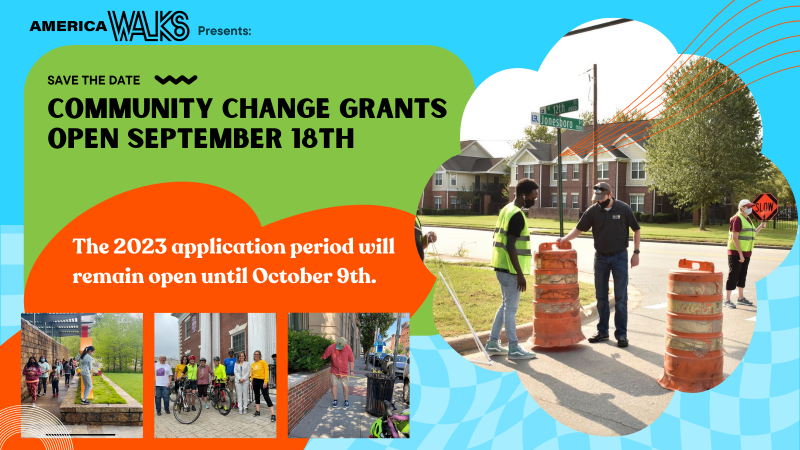 Earlier this week, America Walks launched their 2023 Community Change Grant program to support projects related to creating healthy, active, and engaged places to live, work and play. Apply before applications close on October 9, 2023!
America Walks created the Community Change Grant program in 2015 in response to the US Surgeon General's Call to Action on Walking and Walkable Communities recommendations to advance walkability across the nation. This year, America Walks and Active People, Healthy Nations will award 15 grantees $1,500 per project to create walkable communities. Awardees will be notified in November 2023 and grants must fund proposed projects in the 2024 calendar year. 
The program works to provide support to advocates, organizations, and agencies dedicated to the advancement of safe, equitable, accessible, and enjoyable places to walk and move. This grant program focuses especially on creating change at the community level to increase physical activity and active transportation in a specific community, work to engage people and organizations new to the efforts of walking and walkability, and demonstrate a culture of inclusive health and design. All projects must show a strong and intentional foundation of equity and authentic engagement of the whole community in order to apply and be awarded funding. 
In particular, the program is interested in funding projects that center the concerns of BIPOC residents, reach across the demographics of communities to build coalitions, and/or create unique civic partnerships with new perspectives. 
For the third year, General Motors will fund 15 additional grants at $2,200 in designated towns and cities with GM facilities. In order to apply for these additional grants, applicants must have a project that engages General Motors employees from any facility or live in a location with a primary General Motors facility. Those interested in applying can check the list of GM Communities (in California, this includes Fontana and Rancho Cucamonga). At the end of the application, those interested in applying for the additional grants can answer supplemental questions to determine their eligibility. 
The deadline for applications is October 9, 2023 at 10pm Eastern/7pm Pacific. To apply for the grant program, visit the application webpage. Any questions should be directed to info@americawalks.org.
---
The U.S. Department of Transportation (DOT) is now accepting Letters of Interest from applicants who are interested in receiving technical assistance, planning, and capacity building support under their Thriving Communities Grant Program. The Program aims to help 45 to 60 communities compete for federal funding and implement quality infrastructure projects to help them thrive in 2024. 
Eligible applicants include:
Local, state, or Tribal governments, including pueblos or villages;

United States territories;

Metropolitan planning organizations;

Transit agencies; and

Other political subdivisions of state or local governments. 
The Program prioritizes those who have had limited success in applying for and/or receiving federal funding for active transportation projects in the past and those who have struggled to successfully deliver projects. In particular, the Program is prioritizing support for disadvantaged communities across the United States. 
If selected, communities and organizations are provided with two years of extensive assistance in planning and developing projects, as well as opportunities for peer learning through assigned Communities of Practice. In Year Three, peer learning support continues as Capacity Builders conduct evaluation, reporting, and transition activities. 
Letters of Interest are due by 4:59 P.M. ET on November 15, 2023. Those interested can apply via webform. Any questions can be directed to ThrivingCommunities@dot.gov. 
---
Visit our Funding and Programming Opportunities webpage for more resources to advance safe walking, biking and rolling in your community.