In this installment of Stories From the Field, Nikita Sinha of Walk San José shares her experiences advocating for the safety of people in the city who walk, bike, and roll through partnership and community engagement centered in equity. Read more below!
---
What is your current role? 
I work on the Walk San José program with California Walks. 
What inspired you to work in active transportation? 
I grew up in San José with my parents and grandparents, and as I got older I became more aware of how youth and seniors are limited in their mobility because of how car-centric our City is. In college, I lived in a place where public transportation and active transportation were my preferred options. It was the first time I realized the significance of good public transportation and active transportation infrastructure. I was also studying Environmental Science, so I was also learning about the huge implication of transportation on climate change. I love working in active transportation because I want San José to be a City where people of any age can move freely without having to sacrifice their safety.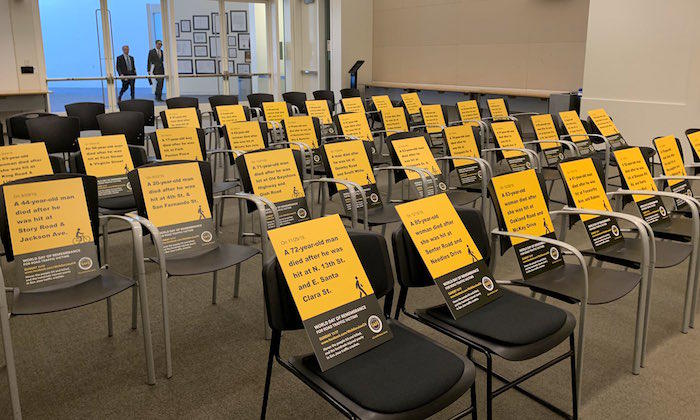 Thirty-six people were killed while walking or biking in San José in 2019. Posters representing each victim filled the room as the Transportation and Environment Committee discussed the new Vision Zero Action Plan.
How does your organization encourage safety for people that walk, bike, or roll for transportation
We advocate for safety for people who walk, bike, and roll through partnership and community engagement centered in equity. I think a big part of our role in San José is connecting people to the City's policy and planning processes. As an advocacy organization, we do our best to track the City's work on complete streets, but there's a lot of information and it's hard to find a point of entry as a resident to have your voice heard. With Walk SJ, one of our goals is to help people learn about the process and share their story. 
What are the key elements of a successful active transportation project or program?
A successful active transportation project has good community engagement. Nobody knows a neighborhood better than the people that live there, and people are really passionate about where they live. Through meaningful engagement, you can learn the needs of people who use the street the most, down to the most specific things. 
What lessons or valuable takeaways did you gain from a recent active transportation project or program?
I've learned from some of San José's pilot projects that there's a lot of value in trying out something first with low cost materials so that people have time to adjust to it and changes can be made without starting over from scratch. San José recently adopted its new Vision Zero Action Plan and allocated $6.78 million in funding over the next year, with a piece of that funding going towards quick-build projects on the City's high priority corridors. 
If you had a superpower and could change anything, what would the future of active transportation safety look like? 
Right now, I would create safe pedestrian access to all transit stops. There's so many people even during this shelter-in-place who are reliant on public transportation to get to their jobs or the grocery store. The ultimate active transportation quick fix right now would be to create safe first and last mile connections and allow essential workers and people who need transit to make their trips safely. 
---
This Stories From the Field interview was conducted in collaboration with UC Berkeley SafeTREC. The opinions and perspectives expressed are those of the interviewee and not necessarily those of SafeTREC.