The guide promotes the "quick-build" method for safety improvements. Quick-build projects use materials that can be installed quickly and at a low cost. The quick-build design allows active transportation projects to be completed in months rather than years. Because quick-build projects rely on inexpensive materials, they are a good fit for California's COVID-strapped municipal budgets.
The 77-page Quick-Build Guide, created by Alta Planning + Design, is available for free. This resource will help planners, city staffers, and advocates understand the tools and processes that lead to successful quick-build projects. 
In addition to the guide, the project includes a 4-page introductory brochure. Both are available online at calbike.org/quickbuild.
"We hope this guide will help California capitalize on the huge increase in biking and walking we've seen during the pandemic," said CalBike Executive Director Dave Snyder. "Quick-build allows communities to build on that momentum to create the kinds of safe, separated spaces that people of all ages need to feel comfortable biking and walking in their neighborhoods. There's no good reason to wait years for safer streets and plenty of reasons to act quickly."
"Rapid implementation of bike and pedestrian networks through Quick-Build is one of Alta's core priorities for transformative investment in transportation," said Brett Hondorp, President of Alta Planning + Design. "This guidebook gives communities the resources to quickly, inexpensively, and equitably create safe spaces for people on our streets, turning the pandemic walking and biking boom into sustained active transportation mode shift."
The partnership to create this guide matches Alta Planning's design expertise and experience with CalBike's network of planning and advocacy communities throughout California. It will give cities a tool they can use to build safe biking infrastructure when and where it's needed.
The Quick-Build Guide was made possible by funding from the Seed Fund and the SRAM Cycling Fund.
What is Quick-Build?
The Basics
Quick-build projects use materials that can be installed quickly and at a low cost. Build projects from posts, planters, and stripes of paint, not new pavement, or curb alignments.
Quick-build projects are installed on a trial basis. Temporary installations allow for adjusting or removing elements in response to public feedback. Successful projects may become permanent exactly as installed or upgraded with more durable materials.
Quick-build should incorporate rigorous community engagement. A project on the ground can serve much more effectively than a PowerPoint or rendering for trying something out and allowing community residents to respond. Gather feedback and input, and change designs accordingly.
Why Quick-Build?
Biking has increased in many communities throughout California, including those that started with low rates of bicycling, as people seek out healthy and safe transportation and recreation. Californians are discovering they can be healthier and happier simply by getting out on two wheels.
Meanwhile, agency budgets are down. Plans to spend millions on infrastructure may no longer be realistic. More than ever, the public demands that transportation projects are equitable and responsive to the needs of neglected communities.
Quick-Build is a method of building bike and pedestrian safety improvements—protected bike lanes, pedestrian crossings, slow streets, parklets, and more—now, within your budget.
In challenging times, quick-build projects are crucial to building trust in the government's ability to deliver public benefit. And quick-build infrastructure can engage the public better than ever, and be more inclusive and equitable than traditional infrastructure.
Case Study
Adeline Street in Berkeley got protected bike lanes 20 years ahead of schedule when Bike East Bay worked closely with the city to incorporate planned lanes into the repaving schedule, saving time and money by simply adding bike infrastructure to an existing project, one funded through a local infrastructure bond measure. The City of Berkeley garnered extensive public input on the Adeline Corridor, making this a great example of quick-build speeding up existing bike infrastructure planning, bringing bike lanes to Berkeley in 2019 instead of 2039.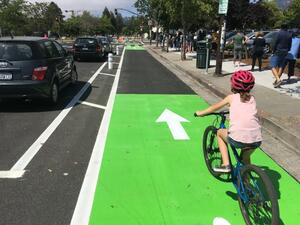 From the Quick-Build Guide:
"Quick-build works to meet mobility needs by helping people to choose active modes more often. Those mobility needs will vary depending on the community and may include safer crossings, slower streets, and extended bikeway network, or safer routes to transit, schools, and essential workplaces. In every case, people require a safe, connected, and comfortable network for active transportation."
"We as transportation experts need to be thinking strategically about whether or not we need to spend three years talking about doing something important, or three weeks to just try something."
― Warren Logan, Transportation Policy Director of Mobility and Interagency Relations at Oakland Mayor's Office