For this installment of Stories from You, we're excited to feature a story from Tamy Quigley, a Senior Transportation Planner with Caltrans and the supervisor for the Office of Complete Streets and Livable Communities in District 2. Having worked her whole career in District 2, Tamy has a true sense of where complete streets needs are and who needs to be served the most. Tamy has made it her personal mission to build and maintain connections and partnerships with each community and makes sure she understands the multimodal needs in the district.
---
Regardless of the very rural aspects of District 2, we have found that connecting with our communities always comes naturally. We spend time freely visiting our many small towns in-person attending local events like outdoor markets, open street events, back to school nights, or even stay for weekends camping. This work allows us to really get a sense of the community, better understand their needs, meet the people, patronize local businesses, and even connect or share space with strangers who later become friends.  Looking back, it feels like we may have taken all this for granted and the mental, physical, and emotional loss was made real when the world sent us all home March of 2020, leaving us all to wonder and worry how we would ever do this meaningful work again, and perhaps more importantly, how we would grieve this loss.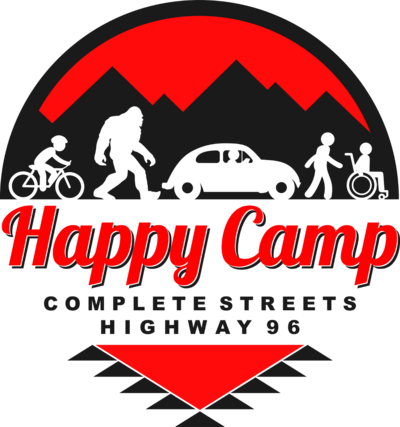 Connecting with Communities During COVID
As we all sat in our homes, isolated and disconnected, this small but mighty team known as the District 2 Office of Complete Streets and Livable Communities rallied in ways I never thought possible.  One particular effort certainly rises to the top, efforts to continue to make an important community connection in the small town of Happy Camp, in western Siskiyou County, on the ancestral lands of the Karuk Tribe.  Our team, in partnership with the Karuk Tribe, had spent years working alongside the small community to determine how to use 90 feet of blacktop roadway surface. The current roadway was striped for vehicles to travel in each direction, yet there was no space for the people of Happy Camp or those visiting to comfortably walk, bike, or roll.  
We had spent years connecting with the community, attending events, recreating locally, and traveling the four hours one way from our office to meet with kids, elders, and businesses to figure out how they wanted their town to look. Our hope was to request funding through Cycle 5 of the Active Transportation Program (ATP) on a one of kind partnership with the Karuk Tribe as the applicant, and when awarded, Caltrans would administer (build) the project.  In the spring of 2020 we planned to finalize our community engagement and without skipping a beat, the team quickly put plan B into motion amidst the shelter-in-place orders, and created a virtual way to reach people using flyers with a QR code. The QR Code led people to an online map-based survey where people could navigate standard questions and give feedback in their own words to express their needs to have a designated space to walk, bike, and roll within their community. We also offered to conduct phone interviews with the community if desired.

Children cross Highway 96 on Healthy Walk Day. Credit: Caltrans, District 2
Happy Camp Complete Streets Project Selected for ATP Cycle 5
I'm happy to report that this effort worked! We were able to collaborate and hear the voices from the people of Happy Camp with this virtual option in ways that mattered most. Previously, when we submitted this exact project for ATP Cycle 4 funding, we fell short and were told more community engagement and participation was needed. Instead of allowing the COVID-19 pandemic to be a barrier, we used it as a chance to change the way we typically connected with our community and it worked. The Happy Camp Complete Streets Project was selected for funding through ATP Cycle 5, as the only Tribe-centered project to be selected this cycle and one of only three projects submitted by a tribe in the program's history.  I am also proud to announce that Caltrans did not have to ask the Karuk Tribe to waiver its sovereign immunity and was able to enter into a joint powers agreement with Caltrans District 2. The project is now in the environmental review phase and construction is expected to start in 2025.
---
This Stories From You was coordinated in collaboration with UC Berkeley SafeTREC. The opinions and perspectives expressed are those of the author and not necessarily those of SafeTREC.